More electric Volvos
By Alex Dahm11 December 2019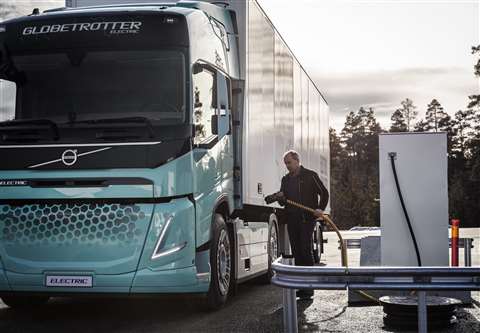 It is only a matter of time before electric power will really start to gain ground in replacing diesel for truck applications. Already some way along this road, Sweden's Volvo Trucks has taken another step in that direction with its announcement of a heavy duty electric truck design.
The idea is to reduce the impact on the environment and on the climate made by heavy goods vehicles. Electric trucks for urban transport are already offered by Volvo and it believes electrification can also be a viable alternative for heavier trucks.
Commenting on the idea, Roger Alm, Volvo Trucks president, said, "We see great potential for heavy-duty electric trucks for regional transport and construction in the longer term. With our concept trucks, we aim to explore and demonstrate different solutions for the future while evaluating the level of interest in the market and in society. To increase demand for electrified trucks, the charging infrastructure needs to be rapidly expanded, while stronger financial incentives must be created for hauliers who act as pioneers by choosing new vehicles with a lower environmental and climate footprint."
Benefits of electrification are primarily zero emission at the point of use and lower noise. Customers in Europe will take part in a pilot scheme where a small number of electric vehicles will be trialled before "more extensive commercialisation will follow at a later point," Volvo said.
Lars Mårtensson, Volvo Trucks director environment and innovation, explained, "The speed of electrification will depend on a number of factors. On the one hand, an extensive expansion of the charging infrastructure is needed, and on the other hand it's necessary to ensure that regional power networks can deliver sufficient transfer capacity in the long term. Financial incentives are necessary to induce more hauliers to invest in electric vehicles. Transport buyers can also contribute by offering longer contracts and being more willing to pay for sustainable transports. Many haulage operators have very small margins, so every new investment must be profitable."
Alongside electrification, the company also acknowledges that "ongoing improvement of the efficiency of combustion engines will continue to play a key role for long haul truck transport for many years to come."