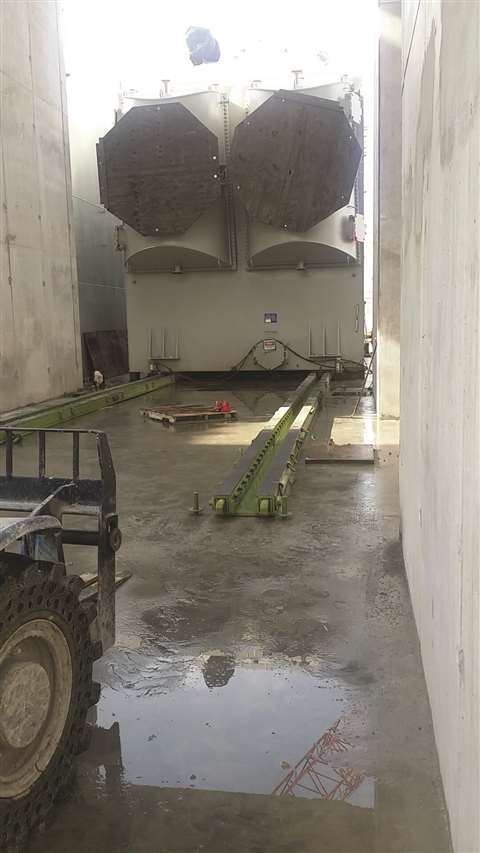 Two condensers were installed by sliding them under a steam turbine tabletop using Hydra-Slide equipment rented from Lifting Gear Hire
Lifting equipment rental specialist Lifting Gear Hire (LGH) in the USA is expanding its fleet of Hydra-Slide skidding equipment. The move follows a period of sustained utilisation of its three 500 ton capacity HT500 heavy track skid systems and power units, according to Hydra-Slide.
The HT500 is used for moving, loading and unloading heavy loads, including transformers, generators and other machines where a rigid, load carrying track is needed.
Patrick Clark, LGH national rental support manager, attributed the success of LGH's partnership with Hydra-Slide to Hydra-Slide's ability to tailor its equipment to the needs of customers. As a result, he said, LGH is now looking to expand the offering as the industry's thought leaders and decision makers broaden their minds to alternative solutions following successful application of
the HT500.
Clark said he sees potential for heavy industrial and lighter commercial projects to use Hydra-Slide's "Up 'N' Go" jacking skid shoes and engineered turntables. The skid shoes work with the HT500 and are designed to fit the same track. The 250 US ton capacity jacking cylinders can be connected hydraulically with an unlimited number of other shoes, upping capacity to multiples of 1,000 tonnes.
For more information see: