Moscow invites major infrastructure investment
By Neill Barston13 December 2014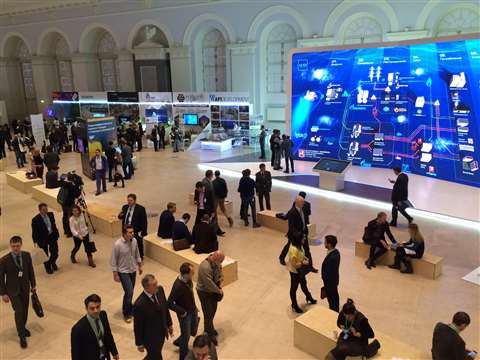 Proposals to attract major investment for multi-billion dollar infrastructure and transport upgrades have been revealed by Moscow authorities.
The plans emerged at the city's fourth annual Urban Forum event, which drew thousands of delegates from across the world to exchange policy ideas surrounding city expansion.
Marat Khusnullin, deputy mayor of Moscow for urban planning and construction, revealed there is 180 million m2 of real estate potential within the Russian capital.
This includes the key "New Moscow" project that the Russian Federal Government has proposed to double the territory of the city - in which more than 150km of land to the south west of Moscow has been earmarked for major-mixed use development.
Within the plans, which were initially drafted two years ago by an Anglo-American consortium under a banner of the Capital Cities Planning Group, is a design for a new federal building in the west of the city.
It also features commercial and residential units, with housing for 1.7 million residents reportedly being planned, providing 800,000 jobs in the government and business sectors.
The move has been put forward as a means of relieving road congestion through relocating the city's major employer. In addition to this, plans include significant enhancement of Moscow's metro system and its road network - which city authorities conceded had become strained given the rate of population increase.
Mr Khusnullin believed that Moscow could learn from a number of cities around the world and would be seeking overseas specialist technical assistance for some of its expansion projects – particularly surrounding the delivery of its proposed metro upgrades.
He said, "In the last few years, we have focused on developing four key areas in urban development of Moscow.
"They are: the development of transportation infrastructure, strategic approach to the city centre development, polycentric development and development of depressed areas, including industrial zones. These goals helped us to implement large-scale urban projects and opened up new opportunities for investors."
Redevelopment
According to the deputy mayor, there were a number of redevelopment schemes that were now being given priority.
Among these were the regeneration of the Moscow riverside area, enhancing the public realm in a drive towards making the city a more attractive and inviting place to live.
In light of present political conditions in Russia, he believed that overseas investment, which would partially-fund its overall programme of regeneration and city expansion activities, would be welcomed from regions including China, Asia and the Middle East.
Sharing his deputy's optimism, the Mayor of Moscow, Sergey Sobyanin, believed the city should be determined in its ambition to expand - despite present economic conditions with a weakened currency.
While he acknowledged Moscow faced challenges - which have included sanctions surrounding tensions over Ukraine's future and a decision to raise interest rates to 10.5% to combat inflation, he enthused that its infrastructure development goals were achievable.
Speaking at the forum event, Mr Sobyanin said, "Like every city, Moscow has been through its stages of development and the past four years have seen some dramatic changes. Economic conditions should not influence our strategy to implement progress.
"I believe that we should pursue the major milestones of development that we adopted several years ago – our city now has no areas that are that are not without positive development."
Forum issues
Some of the key themes covered in the two-day forum included examining the issue of human capital in how a city's population can directly improve the nature of development to best suit its needs.
It also looked at core plans for developing the road and rail network of Moscow and its development of technology and IT services to enable it to compete on a global basis.
Among the dozens of speakers at the event, global city planning specialist Professor Greg Clark felt that through staging an annual forum, Moscow has become more confident and clear about its planning processes, and that it had demonstrated an understanding that restructuring of the city was "critical to its success".
The UK-based development expert and forum moderator said, "Here at the forum what you see is an ambitious city with an emerging long term development agenda trying to communicate that agenda to citizens, property owners, investors and infrastructure providers, with the aim of getting people interested in a long-term agenda rather than short term.
"I think the event has multiple benefits – firstly, it helps investors to see the future a little bit more accurately and also see where the points of opportunity are going to be. It enables them to communicate much more effectively with the outside world about what is going to happen here in Moscow, and thirdly, it also creates a sense of buzz about the place."