Mrózek takes on Terex
By Laura Hatton15 June 2015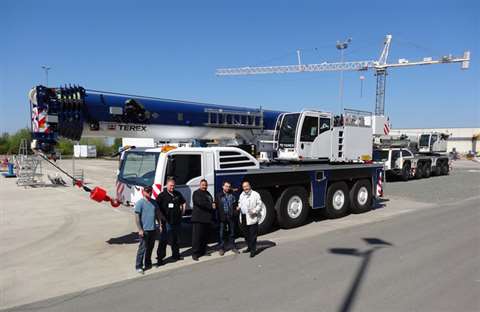 Czech crane service provider Mrózek has added a Terex AC 100/4L and a Terex Explorer 5800 all terrain crane to its fleet.
The two cranes were handed over to Adam Czyz and crane operators Frantisek Jochymek and Martin Jursa at the Terex factory in Wallerscheid, Germany, by Andreas Schramm, Terex global sales manager. Dr Oldrich Schromazdil of Czech Terex dealer ISOS Trade, transacted the sale.
Adam Czyz, Mrózek director of operations, said, "Besides their capacity and wide variety of potential uses, it is largely the high dependability of Terex products that we find convincing. That is why we rely exclusively on cranes from this manufacturer for capacity classes ranging from 30 to 350 tonnes."
ISOS Trade is an official Terex cranes dealer in the Czech Republic and Slovakia.