Multiplex pioneers Roborigger use
By Christian Shelton29 May 2019
Australian construction company Multiplex used a new automated lifting device called Roborigger, developed by Australian engineering solutions provider Tensa Equipment, on the construction of the high-profile New Museum for Western Australia redevelopment project in Perth, Australia.
According to Tensa, the Roborigger is designed to enhance safety by allowing riggers to control loads via remote control from a safe distance. It is installed between the boom of the crane and the load and uses inertial forces to rotate and orient crane loads, eliminating the need for workers to use taglines or to be in close proximity to the load during the lifting and lowering phases.
Tensa said the technology is the first of its kind to be used on a commercial construction site and that Multiplex is the first commercial construction contractor to use this wireless load bearing technology. Tensa has been developing the Roborigger technology since 2016 and Multiplex has supported this as an industry partner since 2017, coordinating Roborigger trials on commercial sites and providing user feedback.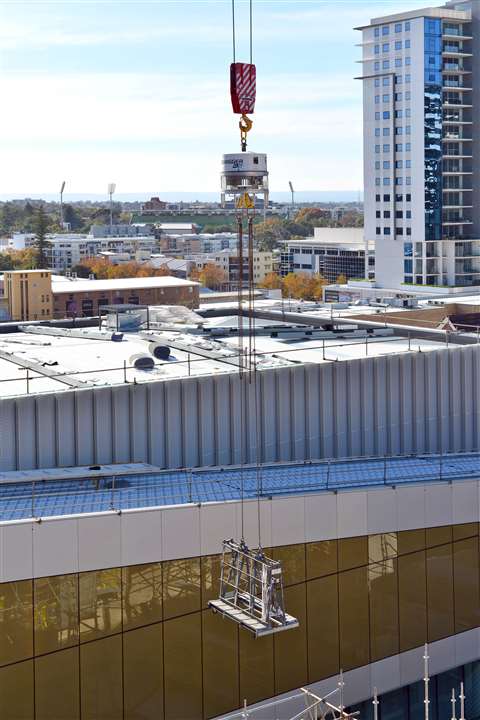 Tensa also collaborated with Curtin University researchers, who developed the bespoke algorithm for Roborigger control. The Curtin research was supported by Australia's largest independent oil and gas company Woodside, who is also a development partner for Roborigger.
Roborigger uses inertial forces from a rotating flywheel to rotate the loads. Radial fan blades provide resistance when the flywheel is running at speed enabling the Roborigger to provide continuous torque to maintain the heading of the load continuously regardless of the effect of the wind.
This, Tensa said, increases the operating window for lifting operations involving loads with high windage, allowing operations to safely continue when winds are 5-10 km/hr stronger.
The unit has sensors to detect the rotation rate and the heading of the load. An adaptive control system is designed to control the load rotation within strict parameters. The system stores up to two headings to allow ease of operation when moving repetitive loads. The unit is battery-powered and runs for more than 12 hours between charges.
According to Tensa, during normal operations cycle times for lifts can be reduced and efficiency improvements of 5-20% gained - depending on the criticality of load orientation. This, is said, can be achieved by the elimination of the time needed to connect and disconnect the tag lines, which are nolonger needed. Typical cycle times are 6-8 minutes per lift and the elimination of 15-20 seconds at each end of the lift is significant, Tensa claimed. Where loads need to be oriented, the saving per lift can be between 30 seconds to two minutes, it said.
Roborigger has an in-built camera and load cell. Using internet of things (IoT) connectivity, it incorporates a tracking system so all lift data (including an image of the load, weight, location, time, date, and the unit status) can be viewed online in real-time.
"At Multiplex we are always looking to find ways of making our sites and day-to-day operations safer so it's been a great opportunity to partner with Tensa in the research and development of Roborigger," said John Flecker, chief executive officer at Multiplex. "The overwhelming potential safety outcomes are what sparked our interest in Roborigger. The device perfectly aligns with our overarching strategy to be safer by design and focus on critical risks, removing the need for workers to be in the proximity of a high-risk activity.
"It's exciting to see Roborigger successfully in action with the initial trial meeting all of our expectations. We've already expanded the trial to other sites in Western Australia, with plans to roll out Roborigger on a number of Multiplex sites nationally."
Tensa has setup a production facility in Wangara, Perth, where it plans to produce 39 Roborigger units in 2019.