Multiquip's new pivoting walk-behind dumper
By Leila Steed24 August 2020
US-based equipment manufacturer Multiquip has introduced a new tracked, walk-behind dumper with a pivoting bucket.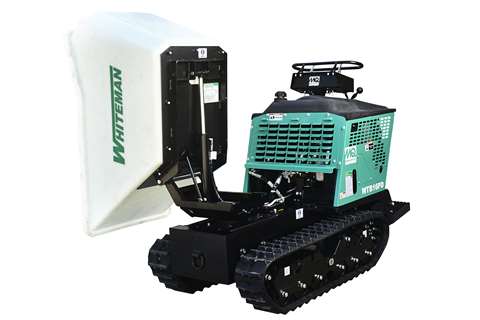 The WTB-16PD can carry just over 1,100kg in its 0.45m3 bucket.
Made of polyethylene for easy cleaning, the machine's bucket can rotate up to 180˚ and is controlled using hand and foot controls.
The dumper's design, which uses an idler wheel to maintain hydraulic hose tension as the bucket rotates, also includes drive motors for work in tough and muddy conditions.
The WTB-16PD is powered by a Honda GX690 engine and equipped with a 19 litre fuel tank. It can reach speeds of up to 5.3mph unloaded and 4.7mph loaded.
Warren Faler, Product Manager at Multiquip, said, "This new pivot dump buggy provides users with greater dumping control and is especially practical in challenging terrain."
He added, "Operators will appreciate our dual hand levers and foot controls that minimise fatigue common with other designs."