Nationwide grows tracked platform fleet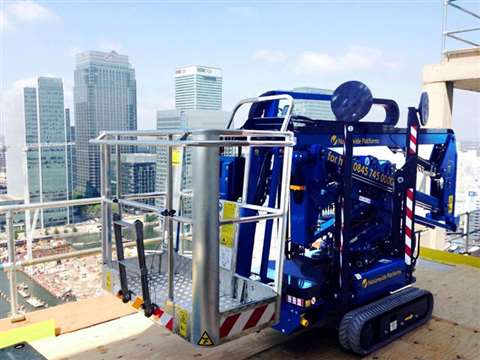 The UK's largest powered access specialist Nationwide Platforms has invested in 35 new Hinowa tracked lifts with working heights from 14m to 26m.
Comprised of Lithium-Ion battery and bi-fuel powered units from Hinowa's Performance IIIS series, the order includes a number of 14m Goldlift 14.70s, 17m Lightlift 17.75s, 20m Lightlift 20.10s and 26m Lightlift 26.14s.
One of the units from Hinowa's UK distributor, Access Platform Sales (APS), a 14.70 was sent straight out on hire, where it was lifted using a crane to the 11th storey of the Dollar Bay residential development project in Canary Wharf, London. Weighing 1750kg, the unit was chosen due to its weight, compact size and lower point loadings.
Peter Douglas, Nationwide Platforms operations director, says, "This is an important investment from Nationwide Platforms in a specialist area of the market that has seen significant growth over recent years. We fully expect this growth to continue with this investment helping to cement our position as the UK's leading access specialist."
The Lightlift models also feature a new basket design, a single key starting system and the manufacturer's RAHM monitoring system, which can remotely monitor a machine's location and operation as well as allowing technicians to diagnose faults.