Nationwide orders 86 green energy Skyjacks
By Euan Youdale14 October 2020
UK-based Nationwide Platforms has invested in 86 electric, hybrid and Stage V-compliant scissor and mast lifts from Skyjack.
The new units feature Skyjack's Secondary Guarding Lift Enable (SGLE) system and have also been fitted with Nationwide Platforms' telematics and fleet management system. The scissor lifts will also be available for hire with Nationwide's range of material handling attachments.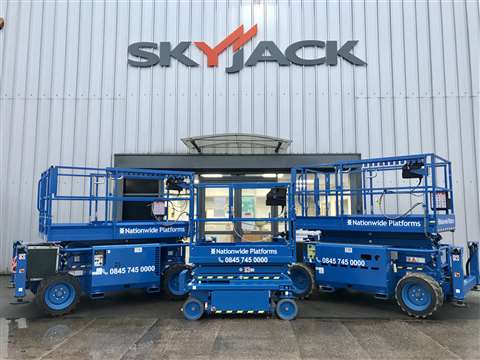 Don Kenny, Loxam Powered Access Division CEO, said, "We have continued to invest and innovate to ensure our customers have access to the latest selection of environmentally friendly platforms on the market. This is part of our sustainability commitment that will ensure at least 70% of our fleet is powered by either electric, hybrid of Stage V-compliant power sources by 2023."
The narrow electric scissor lifts offer working heights from 6.57m to 9.92m with platform capacities up to 408kg, while the mast lifts offer a 5.65m working height with a 227kg capacity.
For more heavy-duty applications, the company ordered a number of SJ6832RTE compact electric rough terrain scissor lifts with the optional hybrid power pack, which offers 11.75m working height with a four person lifting capacity of 454kg. Large 48V 250Ah batteries allow for both indoor and outdoor operation with zero emissions while offering the same performance levels as the diesel counterpart. Where mains power is unavailable, the power pack provides automatic self-charging or alternatively can provide power to the platform to increase flexibility.
The company has also ordered several SJ6826RT compact diesel rough terrain scissor lifts, which feature a highly efficient Stage V compliant engine.
Kenny added, "Although the demand for hybrid and electric machines is on the rise there are still a number of industries and applications which require powerful diesel engines. To meet this demand in an environmentally sustainable way, we specify all new diesel purchases with the latest Stage V-compliant engines, which offer the lowest emission levels possible."
Available from Nationwide Platforms' 38 locations throughout the UK, the new Skyjack scissor and mast lifts join 2,800 Skyjack platforms in its fleet. David Hall of Skyjack said, "Being a preferred supplier of scissor lifts for one of the largest access rental companies in Europe is testament to the quality of our products."