Nationwide Platforms trains HSE inspectors
By Leila Steed22 January 2020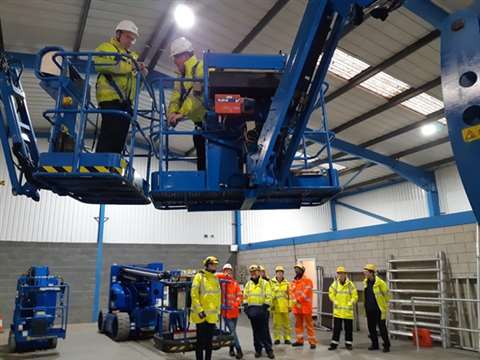 Nationwide Platforms has delivered a bespoke two-day training course to inspectorate staff at the Health and Safety Executive (HSE) – the government agency for workplace safety and welfare regulation and enforcement in the UK.
Designed at the request of the HSE's principal mechanical inspector, the powered access provider's course was developed by three senior IPAF instructors, Nationwide's UK quality manager John Snead and QHSE manager Mark Keily.
It aimed to improve the HSE's mechanical inspectors' knowledge of MEWPs and included topics such as reducing risk, MEWP theory and technical awareness, rescue planning and mid-air rescue techniques and practical MEWP operation.
Andrew Pinkham, training operations manager at Nationwide Platforms UK, said, "Health and safety when working at height is of paramount importance to us as a business and we are always more than happy to lend our technical and training expertise to support our customers in developing their understanding of MEWP operation in an effort to reduce risk as much as possible."
The course utilised virtual reality training and also provided information, instruction and training for investigating MEWP mechanical failures.