NCC to build €130 million Nicolinehus
By Leila Steed10 June 2019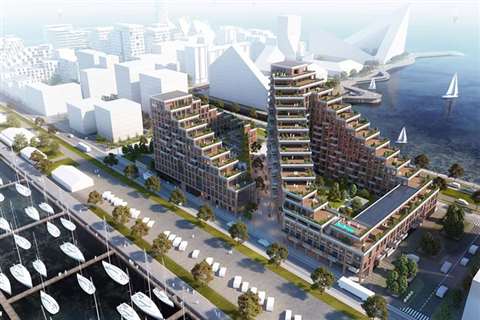 Danish property developer Bricks has commissioned Swedish construction company NCC to build a new SEK 1.4 billion (€131.5 million) residential and commercial complex called Nicolinehus in Aarhus, Denmark.
Located on the Aarhus Docklands, it has been designed as a link between the city of Aarhus and the port.
NCC said that the Nicolinehus construction project was comprised of two triangular blocks with staggered terraces. Up to 17 stories high, it will overlook the quay from two directions.
Mogens Nielsen, head of NCC Building Nordics West, Denmark, said, "We are very pleased to be building Nicolinehus. The building will be one of the architectural gems of Aarhus Docklands. As a contractor, we are honoured to be involved in the development of Aarhus and to be contributing to some of the city's most distinctive buildings."
The development will include 181 apartments, 60 rental units and 6,000 m2 of office space. The development, which is part of the emerging Aarhus Docklands' neighbourhood, will also feature amenities including a market hall, cafes, a supermarket, fitness centre, restaurants and shops and parking facilities.
Philip Foss, director of Bricks, said, "This construction project stands out in terms of location, architecture and quality, and will help to make Aarhus more attractive and appealing."
Construction is due to start in the autumn of this year and is scheduled for completion by 2022.