NCC to spin off housing
By Sandy Guthrie21 March 2016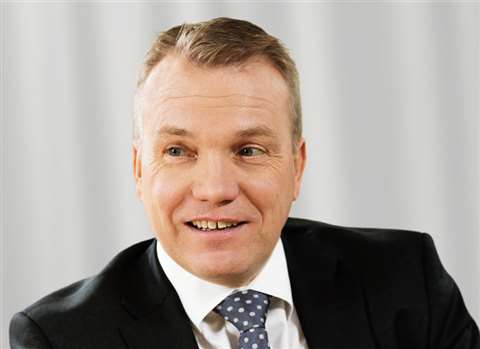 Nordic construction and property development company NCC has said that in 2015, it strengthened its leading position in the Nordic construction market thanks to higher sales and profits – which it said also signified that the strategy it had been pursuing since 2012 had ended on a high note.
Peter Wågström, president and CEO, said, "We are now launching a new proactive strategy focusing on profitable growth."
As part of this, the group has decided to spin off its housing development business.
"Considering 2015 in particular," said Wågström, "I can report that we increased our profit margins in construction and civil engineering, with the exception of the Norwegian business where we had to post new impairment losses.
"Orders received in Sweden, our largest single market, were favourable and sales rose, but profitability needs to improve. A growing construction and civil engineering market has laid a stable foundation for our industrial business."
He said the group's successful housing development business had been a priority growth area.
"We recorded new sales records in 2015 and, at the end of the year, we had 8,778 housing units in production – over twice the number in 2012 and far above our target of 7,000 units."
He said that with these strong numbers in hand, NCC was bringing this strategy to an end.
"It made NCC stronger and more profitable, but growth was too low except for in the housing development business. This is why we are making changes, not only in the direction of the new strategy but also at the organisational level," said Wågström.
"We have therefore decided to spin off the housing development business, the part of the NCC operations that has achieved by far the strongest growth in the group in recent years."
He said this decision had been preceded by a thorough inquiry, during which it established that the potential for growth would be significantly higher for the businesses as separate companies.
Wågström said that as an independent listed company, it would be easier for the housing division to adapt its capital requirements, while at NCC it would increase its ability to use the strong cash flows from the construction and civil engineering operations for investments in identified growth segments, and to review the potential for additional acquisitions.
"The keys to achieving these and other objectives are a specialised Nordic organisation," he said, "and investing in segments with significant growth potential such as housing construction, infrastructure projects and sustainable refurbishment."
As of 1 January, 2016, NCC has been organised in four Nordic business areas and an independent housing development company – NCC Housing.
"The new organisation – excluding NCC Housing – must meet the strategy's ambitious goals by focusing on expertise rather than geographic areas.
"This change means both increased specialisation and improved conditions for taking a more Nordic approach in the business areas. It will also improve the prospects for facing intensifying competition from both major international competitors and local players," said Wågström.
The group's net sales for 2015 have been reported as SEK11.80 million (€1.27 million), which was a fall of 3% on the 2014 figure of SEK12.15 million (€1.31 million).
NCC said that lower sales in the asphalt operations as a result of lower bitumen prices and fewer road services contracts, had resulted in reduced sales in the industrial business. It added that profit from asphalt and road services had improved but because of weak earnings from stone materials operations, the overall earnings of the industrial business were lower.