Nepalese tunnelling record
By Thomas Allen25 July 2018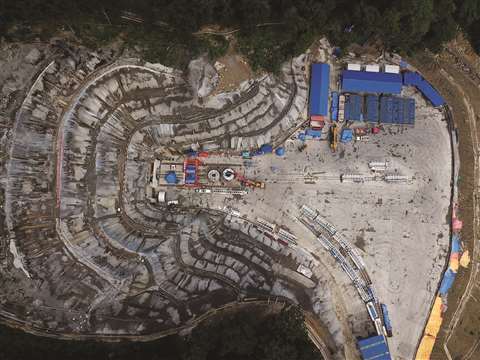 Nepal's first tunnel boring machine (TBM), working on the Bheri Babai Diversion Multipurpose Project (BBDMP), recently travelled 1,000m in one month.
This represents the fastest tunnelling since the project began last summer, with the average rate of progress being 800m per month.
The Robbins Double Shield TBM, with a diameter of 5.06m, is grinding its way through the Siwalik Range, part of the Southern Himalayas, where the geology consists mainly of sandstone, mudstone and conglomerate.
The BBDMP project on which it is working is one of Nepal's 11 National Pride projects, owned by the government's Department of Irrigation and being carried out by the Nepal branch of China Overseas Engineering Group (COVEC Nepal).
The drill and blast technique has traditionally been preferred in Nepal, but studies predicted that it would have taken about 12 years to complete this 12.2km tunnel with that method.
Wang Wu Shui, general manager of COVEC Nepal, said, "The great advance rates achieved at present mainly lie in preliminary planning, process control, and professional construction personnel."
According to him, technical training and guidance have been provided to all personnel, not only to ensure that everyone fully understands their job and responsibilities but also to enable workers to fill in for other operators when they are unavailable due to unforeseen circumstance.
Further measures to reduce downtime include daily scheduled maintenance of the TBM and the regular analysis by geological engineers of the ground conditions so that the tunnelling parameters can be adjusted accordingly.
During the record-setting month the geology was mainly sandstone and mudstone. However, this is set to change because at about the 5.8km mark, the machine will encounter a major fault zone known as the Bheri Thrust. At this point, clay and water ingress are expected, so the team has worked out specific tunnelling logistics to decrease downtime.
Shui said, "The two working procedures of tunnelling and segment erection are carried out simultaneously under the double shield tunnelling mode, and the time to erect a ring of segments is 15 minutes in general.
"Under the single shield tunnelling mode, segment erection comes after tunnelling in a sequential process, but the segment erection time is still about 15 minutes."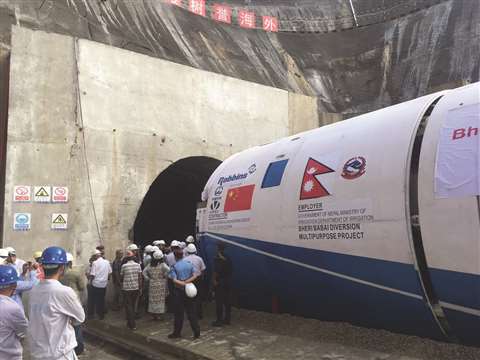 To further reduce downtime, consolidation grouting is carried out in advance during daily maintenance.
Once completed, the BBDMP will irrigate 60,000ha of land in the southern region of Nepal. It will divert 40m3 of water per second from Bheri River to Babai River under a head of 150m using a 15m-tall dam.
The water will also be used for hydroelectricity, with the potential to generate 48MW of energy.