NessCampbell tackles mountain manoeuvre
By KHL Staff29 September 2020
NessCampbell faced steep grades and winter weather during a transformer haul
Hauling solutions ideal for the highway are often less suitable for an off-road journey or more treacherous terrain. Portland, Oregon, USA-based NessCampbell Crane + Rigging was faced with that exact conundrum. The team tackled steep grades and winter weather during a transformer haul that required equipment with dual capabilities.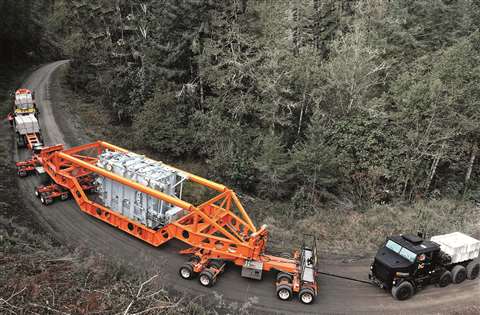 NessCampbell received a 220,000 pound (100 tonne) transformer destined for a wind farm west of the Cascade Mountains. The massive piece of machinery was received by rail car and then offloaded onto a 150 ton (136 tonne) dual lane transporter, while a Kenworth T800 tractor with two Oshkosh prime movers were also used for additional power. This equipment configuration saved the NessCampbell team from needing to do a transfer from their dual lane to a platform trailer once they left the highway.
The transformer was hauled 30 miles (49 km) on state, city and county roads and then moved an additional 28 miles (45 km) off-road to the top of a mountain. The route consisted of logging roads with staggering 10 percent grades, tight turns, loose gravel and lots and lots of mud. Then with the help of a jack and slide system, the transformer was placed in its final location on a concrete pad in a substation on the wind farm.
Added challenge
The hauling solution needed to allow the team to use acceptable weights on the highway, while also being manoeuvrable enough to handle the winding off road journey with the same equipment.
"One of the biggest challenges was keeping enough traction on all three trucks to keep moving," said Mike McDonald, rigging and specialized transportation division manager and VP at NessCampbell. "There were many tight corners on the mountain but our ability to steer all axles on the trailer made us manoeuvrable enough to accomplish the task."
Everything about this job was unique, McDonald explained.
"This is the first wind farm built west of the Cascade Mountains, and we were the first to actually cut into the mountain. All eyes were on us while we climbed, as other companies observed how to navigate the complex route. The roads were narrow and built for log trucks. The grades were steep and the winter weather was an added challenge."