New 100 tonne AT from Sany
By Alex Dahm17 November 2016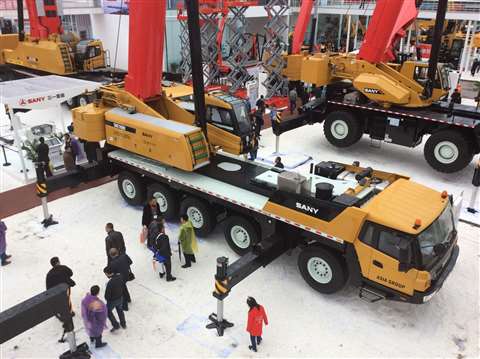 Manufacturer Sany is showing its new 100 tonne capacity SAC1000 all terrain crane for the first time at the Bauma China exhibition in Shanghai, 22 to 25 November 2016.
It has a 63 metre boom and is on a five axle carrier. There is a 15.5 m jib that can have a 12 m extension and it can be offset at 0, 15 or 30 degrees. Maximum counterweight is 36.5 tonnes.
There is one engine in the carrier to power the whole crane which, the manufacturer said, means better fuel consumption, lower weight and less maintenance. Economy is improved by the engine having two working modes – one for transit and one for crane work.
Consideration has been given in the design to accommodate road regulations of most countries and regions, the Chinese manufacturer said. Standard is a 10 x 6 x 10 drive-steer configuration while 10 x 8 x 10 is optional. Maximum gradeability is given as 60 % and minimum turning radius as 9 m. Full counterweight can remain mounted on the crane when moving on site, the company said. An electric motor is fitted to allow basic crane operation to recover from an unsafe crane condition in the event of an engine failure.
The first unit on show at Bauma China 2016 is part of an order from Asiagroup, a leading crane rental company in Southeast Asia. Headquartered in Singapore, it also operates crane supply businesses in Malaysia and Myanmar. In the last two years Asiagroup has ordered twelve new cranes from Sany.
In addition to the SAC1000, Asiagroup has added a 55 tonne capacity Sany SCC550TB telescopic crawler crane to its fleet. It is the first unit of this model and is designed for use on confined area sites around the world. Singapore, Hong Kong and Macao are target countries. It has a 42 metre five-section main boom and 13 m two-section jib.