New 90 m truck mount from Palfinger Platforms
By Euan Youdale16 April 2013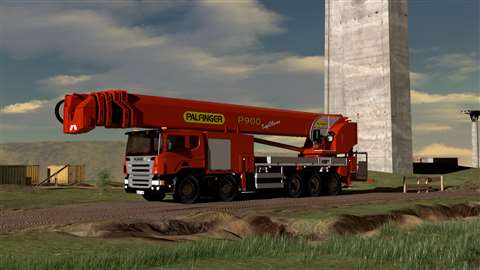 Palfinger Platforms has launched the 90 m working height P900 Top Class truck mount.
The model has a lateral outreach of 32.3 m with a cage capacity of 530 kg, or a 700kg basket option. It is mounted on 5-axle Scania chassis, with a total weight of 48 tonnes.
"Nevertheless, the heavyweight has been optimised for practical conditions and can be securely stabilised in areas where there is very little space," said Stephan Kulawik, Palfinger Platforms managing director, "Thanks to a 5th axle, which acts as a lift axle and is automatically lifted during stabilisation, the P900 requires a much smaller jack lift on the incline,"
Distance between the stabilisers is 7255 mm length × 7200 mm width. To facilitate differing international licencing laws, a foldable underride guard is integrated into the vehicle body.
"However, we did not just focus on the technical parameters, but also looked at additional benefits in daily use," continued Mr Kulawik. "The P900 is fitted with a sufficiently dimensioned driver's sleeper cab.
"This has the economic advantage that hotel costs can be saved and is also beneficial from a security perspective as it means that the truck access platform is never left unsupervised."
Another example of the user-orientated design is the extra large diesel tank, which is concealed beneath the equipment box; a dummy is attached to the vehicle. This is designed to prevent the theft of diesel.