New ANSI Standards: What should operators expect?
The American National Standards Institute (ANSI) is expected to change standards for self-propelled aerial work platforms in late 2017, in a move that reduces global variances in access equipment and to allow for consistent training. So, what does this mean for operators?
"The changes that will likely have most impact on operators are the active load sensing system, new wind ratings and stability testing," said Barry Greenaway, senior product manager, Skyjack.
The ANSI A92 Mobile Elevating Work Platform (MEWP) Design, Safe-use and Training Standards, which includes A92.22 for safe use and A92.24 for training, will replace the current standards A92.5 for boom-supported platform and A92.6 for scissor type platform. The term mobile elevating work platforms (MEWPs) will also replace the term aerial work platforms (AWPs).
Five key changes are expected with the new ANSI standard:
Operators will need new training and familiarization;
Active load sensing system will be required on all MEWPs;
New wind force requirements;
New stability testing;
New railing height restriction.
New definitions
The updated familiarization definition will be clearer and include the features, devices and limitations as defined by manufacturers in the operator's manual. For operator training, A92.20 recognizes the ability of a qualified operator to self-familiarize, and allows online theory training, with detailed requirements specified. Training requirements will also expand to include supervisors and occupants.
Active load sensing
With current standards, it is the operator's responsibility to ensure that the unit is not loaded beyond restrictions set by the manufacturer. Under A92.20 all MEWPs must be equipped with a load sensing device.
"Operators will need to plan and execute jobs to meet the new load sensing system requirements," Greenaway said. "With the new units, jobs that were inappropriately completed by overloading a machine will now trigger an alarm and shut off normal elevating functions."
While new in the U.S., identical technology has been extensively field tested and validated in other markets, such as Europe and Australia, for more than 10 years.
"Scissor lifts will generally use a combination of scissor stack angle sensors, pressure transducers on the lift cylinders and/or load sensing pins," Greenaway said. "Booms will typically use load cells to measure platform load."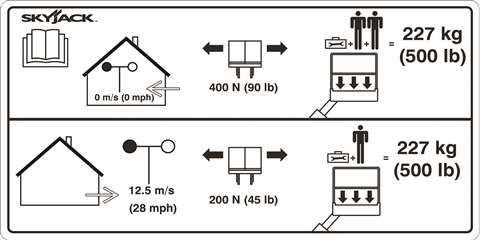 Wind force rating
Under the A92.20, wind load is assessed more aggressively at a high level. For outdoor tasks requiring multiple personnel, operators will need to take new machine capacities into consideration during the planning phase.
Scissors and vertical masts will feel the sharpest impact. For example, for a 28 mph (12.5 m/s) wind rating, a typical A92.6 scissor might have a two-person capacity, but with the A92.20, the capacity will be reduced to one person. The same scissor lift will have a two-person capacity when used indoors under a 0 mph wind load.
Narrower electric slab units will be more affected than the wider, heavier, rough-terrain units. Standard 40-foot to 80-foot self-propelled booms are generally much less affected.
Stability testing
The calculation of overturning and stability moments varies between A92.20 and A92.5/A92.6. The biggest difference is that with A92.20, machines are tested with a fully deflated, air-filled tire. It is expected that manufacturers will use only foam-filled tires on most rough terrain scissors and booms.
"There will be a limited availability of units equipped with flotation tires, so operators will need to plan ahead when selecting units for soft ground or sand areas," Greenaway said.
Railing height
Current standards require solid, non-folding rails that are about 1m (39.5 inches) in height, whereas the updated A92.20 standard will mandate a railing height of 1.1m (43.5 inches)
from the platform floor. To help new machines fit through standard doors and meet
the increased railing height, manufacturers will be changing to folding rails as standard on several units.
"Operators will need to become familiar with folding railings when passing through doors on units like compact electric scissors," Greenaway said.
Mastering the new ANSI standards
After several years of review and vetting, the ANSI A92 standards is expected to be published in late 2017. The industry will have a 12-month period to become compliant with the new requirements.
"It's important for operators to plan ahead and select the proper units for the application," Greenaway said.
"With advance planning, operators should master the new ANSI standards easily."