New Antarctic wharf under construction
By Andy Brown08 February 2019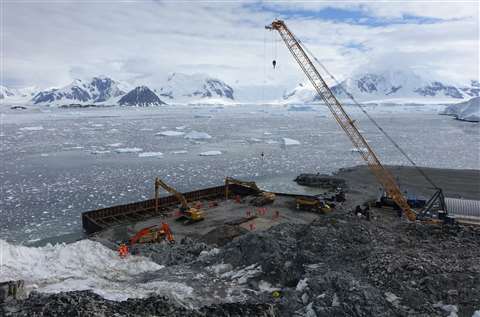 Construction has started on a new 74m long wharf at the Rothera Research Station in the Antarctic.
Operated by British Antarctic Survey (BAS), the wharf will provide safe berthing for the new 129m long Polar Research Vessel, the RRS Sir David Attenborough.
The commissioning of the boat is part of a £200 million (US$259 million) polar infrastructure investment programme by the British government.
Supporting BAS is a team led by engineering and design firm Ramboll, which includes Turner & Townsend and NORR Architects, working alongside BAS's construction partners BAM.
Preparations for the wharf construction have been underway for two years, culminating in the arrival of a cargo ship in Rothera in December 2018. Loaded with 4,500 tonnes of steel and equipment, the ship took eleven days and nights of round the clock work to unload.
Deconstruction of the old wharf is underway. Two 35 tonne excavators, operated by BAM, broke through the surface of the old wharf in mid-January and two 90 tonne long reach excavators are in place for the deep excavation and dismantling works.
BAM project manager, Martha McGowan, said, "Because of the practical restrictions of working in one of the most remote construction sites in the world, the construction team practised full-scale assembly of the 30 tonne steel rigs, that will form the skeleton of the new wharf, prior to leaving for Rothera.
"In doing this, we were able to identify unexpected challenges or additional pieces of equipment needed whilst still in the UK, rather than once everything had been shipped 11,000km to Rothera."
Construction of the new wharf is to take place over two Antarctic seasons. It is due for completion in April 2020.