New Chinese access company forecasts huge domestic growth
By Euan Youdale13 May 2013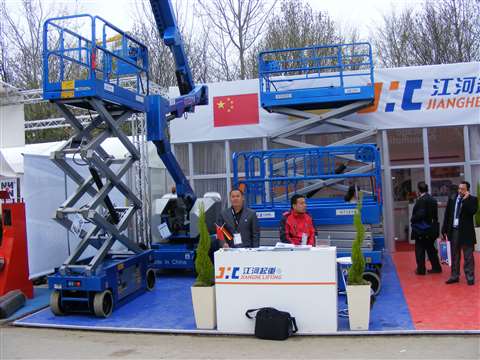 A new China-based access equipment manufacturer has introduced itself to the market.
Henan Jiange Crane Company (JHC), specialises in industrial overhead cranes and gantry cranes but decided to move into powered access equipment less than a year ago.
The company was at bauma for the first time in April and already has four scissors and three booms in its range. While it hopes to be selling 2,000 units a year in China alone by 2018, the company was not at Bauma for the European market.
Instead Jack Dai, senior sales manager, said it was there to attract buyers from developing countries, including Northern Africa.
On the subject of China, he added, "China is about 30 years behind the US. not many poeple use access equipment in the country now but there is going to be huge growth," commented Mr Dai. "The labour cost is increasing and ideas about health and safety are growing. So China will be a huge market in three to five years."
Concerning JHC's equipment Mr Dai continued. "We are not quite as developed as the likes of JLG, but we have a good cost which is perhaps easier for places like North Africa."
Mr Dai added that the big established manufacturers outside China would double their imports to the country next year, then that growth would accelerate.
"In five years we hope to sell 2000 units in China each year. At the moment there are about 10000 units in China, but in five years it could be 100000 at least. maybe in 10 years that will have increased to 1 million units - and that's a common view."