New container cranes for Swedish port
By Leila Steed20 January 2020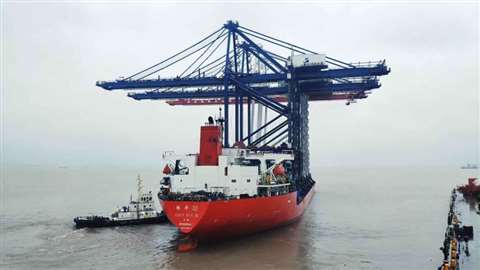 Sweden's Stockholm Norvik Port, currently under construction, is to receive two new super post-Panamax ship to shore cranes.
The high-capacity cranes, which are due to be installed at the freight port's container terminal, stand 80 metres tall in their lowest position. Capable of lifting up to 65 tonnes, the cranes can also handle a width of 22 container units.
Nicklas Ebersson, marketing manager for cargo at Ports of Stockholm, commented, "With these two super-post-Panamax cranes we will be able to welcome the largest vessels in the Baltic Sea and, together with Hutchison Ports, we are able to offer our customers efficient handling and service.
"It is extremely exciting that the container cranes are now actually on the way, achieving yet another milestone."
At the time of writing in January 2020 the cranes were in transit from Shanghai, China, and were due to arrive for installation in two month's time, ahead of Stockholm Norvik Port's opening in May 2020.