New dozers and expanded telehandler range from Liebherr
By Chris Sleight27 October 2014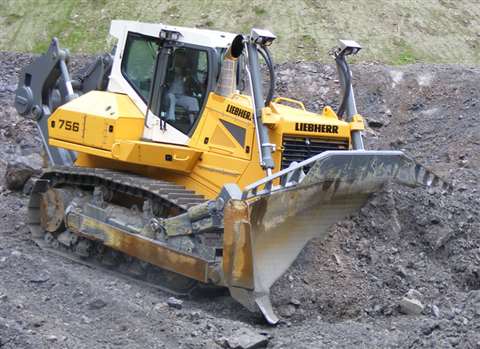 Liebherr's plant in Telfs, Austria manufactures the group's range of dozers, crawler loaders and telescopic handlers. Development work at the factory has continued a pace this year, with new additions to Liebherr's Generation 6 dozers now rolling out, along with brand new telescopic handlers, which will add significantly to the range Liebherr offers.
As far as the dozers are concerned, Liebherr has now released Stage IV/Tier 4 Final-compliant versions of the two largest machines in its Generation 6 range. At around 30 tonnes weight and with a 185 kW engine, the PR 746 Litronic equates to a Caterpillar D8 dozer, while the 40 tonne class, 250 kW PR 756 Litronic competes with the D9. They join the PR 736 Litronic, which was the first Generation 6 machine to be released in April.
As with many other Liebherr machines, the company uses hydrostatic drives for its dozers, and as such the PR 756 Litronic is the largest hydrostatic drive dozer in the world. The use of this technology over a traditional transmission and axles has a number of advantages.
Acceleration to top speed is smooth and continuous, with no gear changes. Mounting a motor on each track not only means high ground clearance, as there is no axle, but also allows the tracks to counter-rotate, so the dozers can more or less turn on the spot.
Liebherr also says the hydrostatic drive helps with fuel economy, as the engine is kept at a constant revs at its most efficient point, with other on-board systems managing travel and other functions. The hydrostatic system also acts as a brake when required, and can hold the dozer still on steep inclines.
Liebherr has met the requirements of Stage IV with the use of selective catalytic reduction (SCR) as after treatment on its own 6-cylinder engines which are used on both the PR 746 and PR 756.
The machines' cabs and controls have been redesigned for greater operator comfort. There is a touch screen control in the cab to access all the major functions and the new machines also have an updated ECO functions, which particularly helps fuel efficiency in medium and light work.
Liebherr's LiDAT telematics system is standard. The Generation 6 machines can also be factory-fitted with kits to accept the major brands of machine control system available on the market.
Telehandler expansion
Liebherr entered the telehandler segment in 2007 with four models offering vertical reaches of 10 m to 13 m. It is now planning a large, phased expansion of the machines it offers, as managing director of Liebherr-Werk Telfs, Martin Längle explained.
"Based on the experience in the industrial segment and after a thorough analysis of both markets, Liebherr decided to enter the high volume 7 m class. Our engineers have designed a price-competitive all-new range of state-of-the-art telescopic handlers with outstanding features," he said.
There are three models of 7 m vertical reach machines, all with a Stage IIIB-compliant 74 kW Deutz engine, but offering different lift capacities. The TL 432-7 is rated at 3.2 tonnes, the TL 436-7 at 3.6 tonnes and the TL 441-7 and 4.1 tonnes. A 90 kW engine is available as an option.
Mr Längle added, "We also plan to extend the Liebherr telehandler family to the 10-m class in 2018. The product range will later be further extended to the 13 m and 17 m class."
He also said that there were no plans for a range of rotating telescopic handlers – Liebherr would continue to focus on fixed, forward-facing boom models.
Again, hydrostatic drive is a feature of the machines, with forward and reverse being controlled by a single joystick, allowing the operator to keep one hand on the wheel at all times. The joystick can also be used to control boom functions.
There are three steering modes – front, all-wheel and crab, and off-road performance is helped by a 45% self-locking limited slip differential on the front axle.
But although Liebherr may be entering a high volume sector, it will continue to position these new telehandlers at the top of the market. "We always concentrate our growth strategy on our strongest segments, which is the premium and special sector," said managing director of Liebherr Earth Moving Technology (EMtec), Joachim Strobel.
BRICs machines
Indeed, it is this philosophy that Liebherr is taking to emerging markets such as Brazil, Russia, India and China (BRICs), where it has expressed a desire to get into higher volume parts of the market without compromising its premium reputation.
"To enhance our market position in the emerging markets, we are currently developing a broad range of volume machines in the product lines of crawler excavators and wheeled loaders, " said Mr Strobel. "The machines can be manufactured at our production sites in China, Brazil and Russia while allowing for a high degree of localisation. The start of production of the first machines will be in 2015. Since we build our machines in a modular way, we can also transfer synergy effects to our premium machines."
Another initiative to bolster its global presence is a massive new € 115 million (US$ 145 million) spare parts and logistics centre in Oberopfingen, Germany. The first phase of construction will be complete at the end of this year, and will see a facility with 47,000 m2 of covered area established.
The use of automated systems and the cutting edge in logistics will allow this to ship an incredible 3,500 spare parts per hour. One of the ways this has been achieved is through a 36 m high automated shelving system which can store 60,390 individual boxes. This adds to other manual systems for different types of components for a total of 122,000 box spaces.
The interface with the outside world includes a garage for incoming goods that can house 10 trucks at once, while the dispatch area features 22 truck docks.
The Oberopfingen will start to come on line next year and is expected to be holding 100,000 parts by March next year.