New exhibitors at APEX Asia
By Thomas Allen24 October 2019
A number of companies are new to APEX Asia this year, hoping to use the exhibition as a platform to launch into the booming access market in China.
Exhibiting for the first time, Eurocrane is displaying a new line of scissor lifts manufactured by the company and branded Fronteq. The Fronteq brand was launched at the beginning of 2019.
The new line comprises five new scissor lifts, ranging from the 4m FS0407 model to the 40m FS1414E model. They are all electric, and the AWP R&D Manager Lu Wei highlighted the fact that the FS1414E uses an AC motor rather than a DC motor for greater efficiency.
This new range has been introduced due to the popularity of this type of equipment in China. According to Wei, 200 units have been sold so far. The company's target customers are dealers and rental firms.
It is intended that some boom lifts and rough-terrain scissors will be added to the Fronteq line next year.
Another scissor lift manufacturer HQ Platform was also exhibiting for the first time, represented by its overseas department Global Machinery Hub (GMH).
The company has been producing scissor lifts for six years, but for the first time it has started to sell its equipment outside of China this year.
It is now selling all five of its scissor lift models in Australia and has ambitions to sell to Europe in the near future. The scissors are all TUV and CE certified.
HQ Platform produces 300 units per month at its factory in Huzhou City.
Also exhibiting for the first time is Hunan Aerial-Power Machinery. The company started two years ago and says it is the first specialist parts supplier for MEWPs in China.
Hunan's Sales Director Tina Tan said the company wishes to learn from TVH and Vertimac in Europe and apply a similar idea to the Chinese market.
The company currently provides spare parts for all Chinese brands of MEWP, including Dingli and Sinoboom, and offers some Genie and JLG parts. In future, it hopes to supply a full suite of parts for other manufacturers like Genie and JLG.
Parts can be purchased through Hunan's website and through WeChat.
Going forwards, Hunan wants to grow its technician service, whereby the company's technicians can help companies – in particular rental companies – to replace parts on machines.
For Hefei Yamei Technology, this is the second year exhibiting at APEX Asia.
On display for the first time is the company's first tracked version of its S1012HD scissor lift.
The company has been manufacturing scissor lifts for eight years and started exporting five years ago, to Europe, South America and to a small extend in South East Asia. About 60% of its revenues now come from exports.
At present, Hefei Yamei produces scissor lifts ranging from 3.9 to 14m in height, but intends to introduce a boom lift soon – possibly next year, according to the company's Overseas Marketing Manager Simon Li.
Also exhibiting for the second time is Shandon Chufeng Heavy Industry Machinery Group, which started manufacturing scissor lifts in 2008.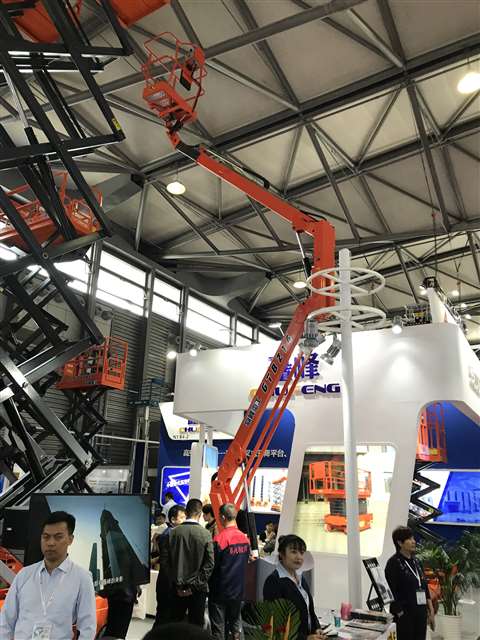 While scissor lifts are its main focus, the company also offers a number of other products, including loading ramps and cargo lifts. And this year, it is launching its first boom lift: the GTBZ1415.
The new battery electric boom lift has a height of 14m and a maximum capacity of 200kg. It can travel at a maximum speed of 4km/h and when stowed it measures just over 4m in length.
Chufeng decided to introduce the new boom lift in response to customer demand. Speaking to clients, it became clear that they wanted boom lifts "because of their long working reach," a company spokesperson said. In fact, the company is already planning to launch another boom lift soon – it is currently in development.
Chufeng, which has been an IPAF member for two years, sells its equipment around the world – including in Europe, the US and Australia – with 30% of its sales revenue coming from exports.