New facility for Icelandic dealer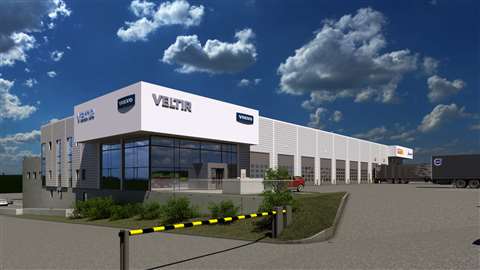 The strong market in Iceland has led Volvo dealer Brimborg to expand into new headquarters – a 4,000m2 facility which is twice the size of the existing dealership and will be called Veltir, the old Icelandic name for Volvo.
A growth in tourism is said to have led to a construction boom in the capital, Reykjavik, and other larger settlements. The number of government infrastructure projects has increased, particularly with regard to new hotels, apartments and roads, and the strength of the Icelandic Krona has meant the imported cost of construction equipment is much lower.
Brimborg is said to have been thriving as a result of the market pick-up over the last three years. In response, it has invested €10 million in a new, state-of-the-art facility in Hádegismóar, on the outskirts of the capital. An opening date has been set for summer 2018.
Kristinn Mar Emilsson, general manager of Volvo commercial vehicles and equipment at Brimborg, said, "The new headquarters, which will be known as Veltir, will help us to achieve an even greater market share for Volvo, better service availability to our customers, less waiting time and more skilled mechanics."
Whereas the current premises at Bíldshöfði shares space with the multi-brand car dealership arm of Brimborg, Veltir will be used solely for selling and servicing the Volvo commercial brands – Volvo CE, Volvo Trucks, Volvo Buses and Volvo Penta.
It will also include Veltir Express, which will provide oil, trailer and tyre management services.
Greater accessibility
The increased size and better location also means greater accessibility for customers, the company claimed.
Along with state-of-the-art equipment like a 10 tonne gantry crane, jack lifts, brake tester and lubrication pits, the new facility will feature a vertical storage lift to improve spare parts storage. Built by Weland Lagersystem of Sweden, the 11m high warehouse lift will not only optimise space, but also dramatically improve efficiency through its automated operation.
"The warehouse is in the basement, and from there the employees will fill up the vertical storage lift," said Emilsson. "When a part is needed, a robot will select the appropriate shelf and send it up. This allows us to reduce time and improve employee working conditions."
Brimborg was keen to highlight that the introduction of robotic technology would not endanger job security. In fact, it plans to expand employee numbers. When the new facility opens, Brimborg will have increased its number of employees in the commercial department from 27 to 45, including eight more mechanics.
Emilsson said that 2018 marked 30 years since Brimborg became Volvo's dedicated dealer in the country, so that it was a perfect time for the Veltir name to come back.
"A lot of our customers still remember the Veltir name. I hope the new facility will make them proud. Veltir will be more independent and valued as a proper Volvo dealership.
"The relationship with Volvo and the positioning of the new facility will help to establish us better."