New features in Doosan's Stage V excavator
By Mike Hayes10 September 2019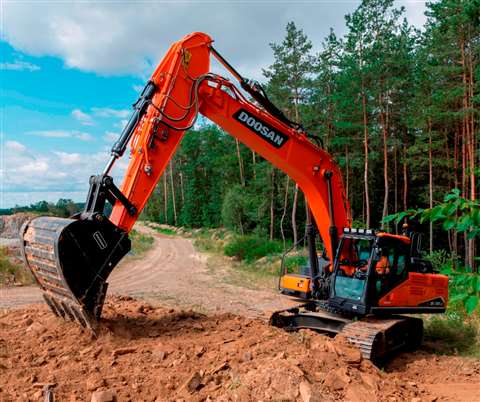 The DX300LC-7 is the first medium-sized excavator from Doosan to meet Stage V emissions regs
Doosan's DX300LC-7 is the company's first medium-sized crawler excavator on the market to meet Stage V emissions regulations.
Doosan says the new machine builds on the successful design of its predecessor, with enhancements in operator comfort, machine controllability, productivity, uptime and return on investment.
The company adds that its focus with the DX300LC-7 was strongly on increasing power while maintaining low fuel consumption, as well as providing a robust and versatile machine.
Inside the cab, the excavator boasts a 30% larger touch-enabled colour LCD gauge panel, which also incorporates an integrated stereo system.
Also as standard, the excavator offers one front, two side and one rear camera, providing enhanced visibility, as well as offering the operator a top-down view of the area around the machine.
In terms of optional extras, the machine has:
ultrasonic detection of obstacles
smart keyless start system
LED lights
Side protection
Air compressor
The DX300LC-7 is powered by the latest generation Doosan DL08 diesel engine, providing 202 kW of power at 1800 RPM.
Doosan says the engine exceeds Stage V regulations without exhaust gas recirculation (EGR), boosting the quantity of air available during combustion, increasing the temperature of the process and greatly reducing the amount of particulates produced. This is combined with a more efficient DOC/DPF+SCR after-treatment technology promises minimal emissions.
Maintenance of the diesel particulate filter (DPF) has also been reduced, with, says Doosan, no maintenance required before 8,000 hours of operation.
In combination with a new hydraulic main valve and Doosan's new generation SPC3 Smart Power Controls, the company says fuel savings of more than 7% can be made over the predecessor model in S mode, while more than 6% saving can be made in P+ mode. These are two in a range of four power modes available on the new excavator.