New grinders from Fuji with enhanced durability
By Thomas Allen28 September 2020
Japanese tool manufacturer Fuji has introduced a new series of 7-inch angle grinders with a bevel gear design that extends the tools' life in heavy metal applications. They are available worldwide, except for the US.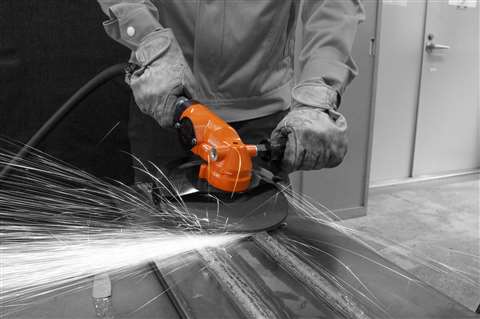 The FA-67 series was said to have been built with ergonomics in mind. The tools have been made 25% lighter and 15% smaller than traditional 7-inch grinders, while delivering the same performance, says Fuji.
The grinders are fitted with a 1.5kW governed motor that maintains rotation speed to optimise grinding performance.
They also have a trigger that can be adapted to markets, user habits and safety requirements.
For enhanced safety, the series has a flange design, which transmits the power to the disk, reducing the vibration the operator is exposed to.
Also, the compact head of the grinder enables good visibility over the piece being worked on to help improve precision.
The angle grinders are protected by a full metal housing for enhanced durability, and they feature an airflow design that creates a smoother flow through the bevel gear to extend the tool's working life with air cooling and lubrication.
Suitable for use in harsh environments, the grinders can be used in a range of heavy metal applications, including foundry, bridge and road construction, shipbuilding, and rolling stock.