New Grove driver's cabin
By Christian Shelton08 December 2020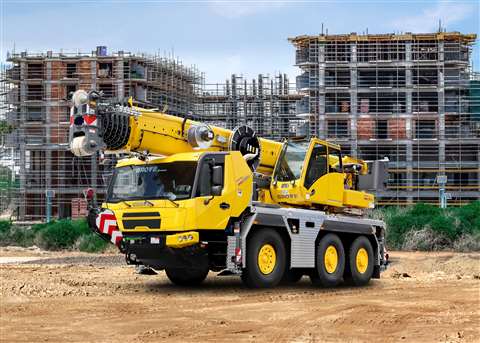 Wisconsin, USA-headquartered crane manufacturer Manitowoc has launched a new driver's cabin for three of its Grove all terrain crane models. The new cabin, called Cab2020, is available for the GMK3050-3, GMK3060-2 and GMK3060L-1 three-axle all-terrain cranes.
According to Manitowoc, the Cab2020 retains the same compact nature as predecessor carrier cabins, with a width of 2.55 metres, but has a new look and meets the latest ECE R29-3 crash-test requirements in Europe.
Manitowoc says the new cab design uses space more efficiently. It has positioned the Crane Control System (CCS) sightly higher so that it is easier to see and reach. The layout of the controls has been optimised while the cabin's surfaces are made from premium quality materials, Manitowoc adds.
To design the new cab Manitowoc utilised user feedback and the first prototype was seen at the Bauma 2019 trade show in Munich, Germany, where further feedback was gathered.
"It was important for us to retain what was deemed as perfect and tried and tested by crane operators," said Andreas Cremer, Vice President Product Management Mobile Cranes at Manitowoc. "But by adding the extra bits and pieces, we have achieved real improvements in design and function, which resulted in our new Cab2020 becoming the new carrier cab for the smaller range of our Grove all-terrain cranes."
Further GMK models will receive the Cab2020 and a fresh new look over the coming months, Manitowoc confirmed.