New headquarters for Combilift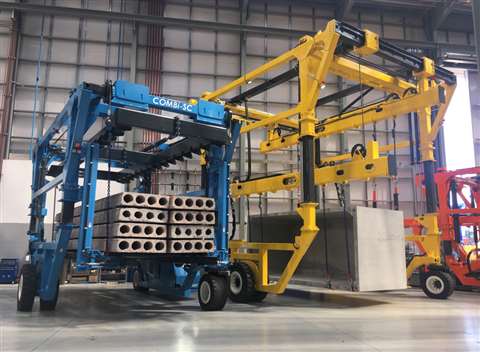 Straddle carrier and forklift manufacturer Combilift has officially opened its new €50 million factory and global headquarters in Monaghan, Ireland.
On a 100 acre site the 46,500 square metre factory is built to high standards to minimise environmental impact. Maximising natural light, efficient heating and capturing rain water for reuse are some positive features of the new building. Windows make up 23 per cent of the roof area so daylight is maximised for work in the factory under natural light. There is a biomass heating system and solar panels contribute 185 kW of energy.
Commenting on the opening, Martin McVicar, Combilift managing director, said, "We have employed an additional 230 people since we announced our plans for this factory in 2015 and the combination of this state of the art production plant and the growing skilled workforce will allow us to double production within the next five years."
Strong growth at the company has seen it double in size in the last five years. The workforce stands at 550 employees and another 200 new jobs will be created in the next three years, the company said. Another milestone this year is the company's 20th Anniversary.
An area identified for development concerns the increasing size of pre-cast concrete elements in construction, especially their length. Lifting and transporting long loads such as bridge beams is a typical application for the company's growing range of straddle carriers.
Combilift said it exports 98 per cent of production to 85 countries via 250 dealers. Niche products are key at Combilift and McVicar attributes its growth to 'mass customisation'. "Combilift has set the benchmark for the mass production of customised innovative products. Mass customisation is the new frontier for both the customer and the manufacturer as customers are increasingly expecting products to be tailored to their requirements. We listen to and take feedback on board from our customers and dealers to identify solutions that best match their individual specific needs."
Reinvestment in the business includes 7 % of turnover for research and development. This helps customisation capability and to maximise return on investment. McVicar said, "The flexibility in our new facility means that we can continue to accommodate any request for a customised material handling solution. We also see ourselves as much more than a forklift manufacturer and are transforming the transport and logistics sector with our innovative, space-spacing products and our services."