New heights for Mobi-Hub
By Laura Hatton10 December 2014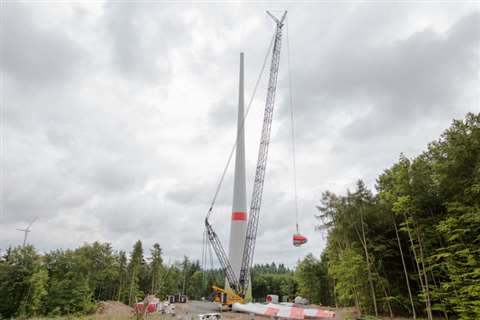 Crane service provider Mobi-Hub put its new Terex CC 2800-1 crawler crane straight to work on the construction of a wind farm for generating electricity in Koblenz, Germany.
The 600 tonne capacity CC 2800-1 was used to erect an Enercon wind turbine with a hub height of 130 metres. Challenges during the job included transporting the crane along a narrow path leading to the wind farm and erecting the 150 metre boom on a slope; this proved challenging for the assist crane. Frank Strempel from Mobi-Hub, said, "On top of that, we had to use the suspended superlift tray with a weight of 325 tonnes when erecting the boom."
Despite the challenges, the crane was erected in two days with the help of six assembly technicians. It was configured with 138 m S7 boom, a 12 m fixed jib and 180 tonnes of counterweight.
Working at a radius of 20 to 22 m, the crawler was required to lift and install a 48 tonne nacelle, a 71 tonne generator and a 68 tonne rotor. Frank Strempel said, "The CC 2800-1 did an extraordinary job all throughout and proved that we could not have made a better decision. Not only because of the crane itself, but also because our experience with Terex has shown that we can always count on them for fast and reliable service."