New high capacity semi-lowloader
By Christian Shelton03 May 2017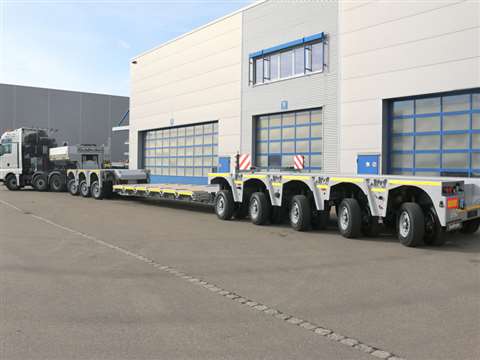 German heavy and oversized cargo transport solutions provider Goldhofer Aktiengesellschaft has added to its STZ-VP range of semi-lowloaders with the STZ-VP (285). The company said the semi-lowloader gets its name from the new 285 mm tires it wears, which means it can carry heavier loads. According to Goldhofer, the STZ-VP (285) is the highest load carrying capacity lowloader semitrailer it produces.
The semi-lowloader is available in configurations with between three and ten axles and a choice of decks (vessel bridge, crawler deck and flatbed). Goldhofer said that the semi-lowloader has an axle load of 16 tons and a flatbed deck profile of just 200 mm.
The STZ series features a combination of extremely wide excavator recesses and relatively short bogies, explained Goldhofer. The company has also utilised its pendular axle technology, which it claimed means the geometry of the axle suspension has been precisely calculated to ensure free oscillation of the wheelsets. It said this results in optimum distribution of the load to all the tires and helps the semi-lowloader remain perfect level, even on uneven terrain. A steering angle of up to 65 degrees is designed to ensure good maneuverability. Goldhofer added that the axle suspension is available with a choice of tapered roller or compact bearings to meet customers' requirements in terms of mileage and maintenance intervals.
Goldhofer said that with the STZ-VP (285), the STZ family now has a version that can handle much heavier loads thanks to the bigger tires and a maximum fifth-wheel load of 52 tons. The STZ-VP (285) also comes with a sturdy frame, while the optimised excavator recess brings a reduction in overall load height. The use of the gooseneck with or without a front bogie and the option to combine the front bogies with the MPA-K family and the rear bogies with the THP family make this lowloader a versatile all-rounder, said Goldhofer. Other attractions include the long service life of the 285 mm tires and the use of high-grade brand products from Goldhofer's long-established suppliers throughout. In addition, the company claimed its global service network offers a fast response and worldwide support with excellent availability of original parts.