New Hilti breaker with "exceptionally low" vibration
By Murray Pollok24 August 2009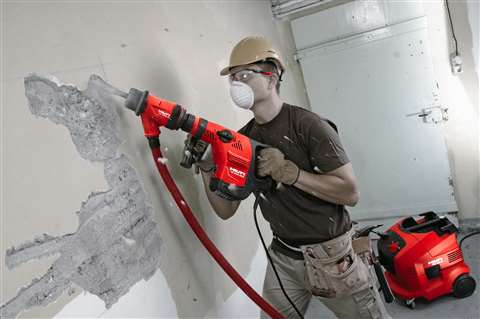 Hilti has launched a new 11.8 kg breaker with "exceptionally low" triaxial vibration levels of 6.5 m/s2.
With a 22 J single impact energy (on full power) and a 1950 blows/min hammering speed, Hilti said the TE 1000-AVR is suited to everything from demolition of concrete slabs to digging in clay to heavy floor tile removal. It can be used with a wide array of Hilti attachments, such as pointed, narrow, flat, tamping and spade chisels.
The tool - rated at 1600 W and measuring 700 mm (L) by 138 mm (W) by 230 mm (H) - incorporates Hilti's Active Vibration Reduction system, which isolates the internal parts from the outer casing and grips.
Hilti also said that longer than usual service intervals are possible because of the use of an electronically controlled SR motor that has no rotor windings, commutator or carbon brushes.
The tool can also be used with Hilti's new TE DRS-B dust removal system that can remove a claimed 95% of potentially hazardous fine dust.
Meanwhile, in early July Hilti announced it has entered the North American professional diamond service contractor market with the purchase of U.S.-based Diamond B. Diamond B is 25 years old and based in Los Angeles, California, and is a "top-tier diamond consumables manufacturer and one of the best known brands for this segment in the United States." Diamond B had annual sales of US$10.8 million in 2008.
Marco Meyrat, the Hilti executive board member responsible for worldwide marketing and sales, said; "The current economic situation not only represents a challenge to companies, it also opens new opportunities.
"With this acquisition, Hilti is strengthening the long-term growth of the entire company. In Diamond B we are gaining one of the best and most professional US-based diamond consumables manufacturers and direct sales force."