New Hyundai excavators and loaders
By Sandy Guthrie23 March 2016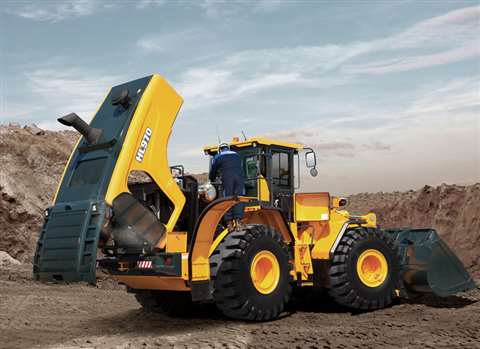 Hyundai will be introducing its new HX and HW crawler and wheeled excavators at Bauma.
The new HX235 LCR and HX145 LCR crawler excavators are fitted with a Stage IV engine, as are the HW140 and HW210 wheeled excavators.
The new machines include Hyundai's advanced around view monitoring system as well as claiming increased productivity and fuel efficiency. The company also noted that the machines had greater operator comfort, with a larger touchscreen monitor and more leg room.
The new 203mm touchscreen monitor displays information which mirrors what a smart phone and is 30% larger than previous models. It is said to be easy to read and the main view of the screen can be adjusted according to the preferences of the driver. The monitor also has Bluetooth, meaning it can be connected to a mobile phone.
The machines are fitted with an eco gauge which is said to enable the economic operation of the machines. The company said that the machines could offer a reduction in fuel consumption from 6 to 12% – depending on the type of operation – in comparison to Hyundai's 9A series of machines.
The machines have a function that turns the machine off when it enters an idling state, minimising unnecessary fuel consumption and emissions.
The machines also offer up to ten breaker and crusher settings. The boom can float freely by connecting to the cylinder head and the rod directly to the tank. A power boost button is available to override floating boom.
Hyundai is also launching four new wheeled loader models at Bauma, with the HL940 TM, the HL955 TM, the HL970 and the HL980 all making their world debut on the Hyundai stand.
These new wheeled loaders are said to have been designed for maximum performance, productivity and efficiency, and claim to have been proved to deliver as much as 5% greater productivity and 10% lower fuel consumption than the previous 9A Series loaders.