New Liebherr crawler crane painting system
By Christian Shelton27 July 2017
German mobile and crawler crane manufacturer Liebherr-Werk Ehingen has announced it is using a new system for painting large crawler crane components. The company said it invested in the new system following an increase in the number of crawler cranes it is producing and an increase in the size of the components that require painting.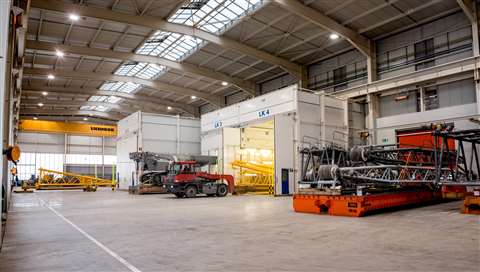 The new painting hall enables the complete painting process to be carried out from start to finish and Liebherr said environmental protection and occupational safety were important criteria in its design. Division manager Thomas Nüssle explained, "Due to current regulations, there are fewer substances harmful to health present in the paints. Yet at the same time these paints are more difficult to work with. We've therefore invested a great deal in the technical system for paint application." To prevent deposits from accumulating in the tanks and lines, the paint is conveyed at low pressure in a ring line in the new system. The pressure is not increased until the painting cabin, where additionally installed high-pressure pumps are used. As a result, Liebherr said, a good painting quality can be realised with a constant pressure of about 160 bar.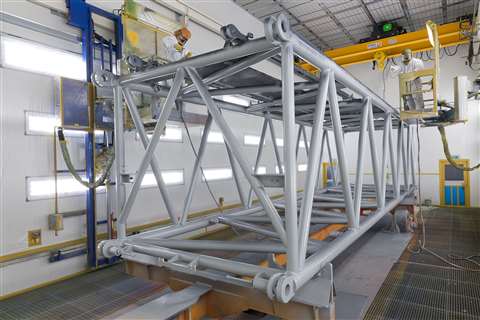 The system uses filters to ensure the air dissipated back into the environment is as clean as possible. The new painting system also requires less energy supply than conventional systems, as about 70 percent of the heat is recovered, Liebherr claimed.
To help improve ergonomics Liebherr's new paint system has adjustable stationary work platforms which can be moved to the optimal painting position. To improve occupational safety the system's operators are protected by securing devices when working at height on larger components.
The new setup, Liebherr said, is the first time the company has used a three component system. This means that up to 10 percent of the final top coat is added to the filler. In this way Liebherr claimed colour hues with poor coverage achieve a better covering capacity, thereby saving materials and time.
The new painting system also offers the option of preserving components in a separate painting box with a special layer for extreme environments, such as salt water in the sea