New Liebherr for King Lifting
By Laura Hatton09 September 2015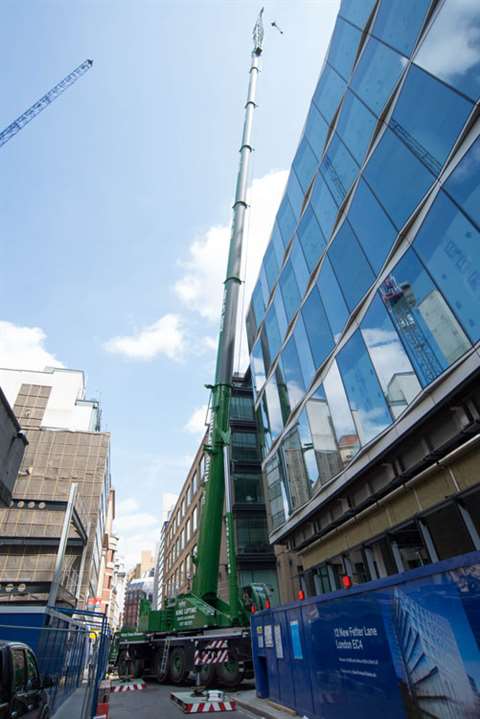 UK-based crane rental company King Lifting has added a new Liebherr LTM 1300-6.2 wheeled mobile telescopic crane to its fleet.
The 300 tonne capacity crane has the Liebherr VarioBase system, which allows variable outrigger extension. Crane operation is then made safe by the load moment limiter within the LICCON control, the manufacturer said.
The new addition was used to remove a tower crane in the City of London for HTC Wolffkran. To reach the tower crane, the LTM 1300-6.2 was positioned on the junction of Fetter Lane and a service lane leading to it. It was configured with 78 metres of main boom and 14 m fixed fly jib. The outriggers were set at full width on the rear with the front nearside at 50 % and the offside at 75 %, a company spokesperson added.
Nic Hutchinson, HTC Wolffkran operations manager, said, "Partnering with King Lifting on the Fetter Lane job was a great opportunity to exploit the advantages of the VarioBase on the LTM 1300-6.2. The manoeuvrability of the crane into this incredibly tight space was remarkable as can be seen from the photos. It really was the only crane that could be utilised with minimum disruption to an already tight and cordoned-off area. Amazing achievement!"