New Liebherr for Scholl
By Laura Hatton19 September 2014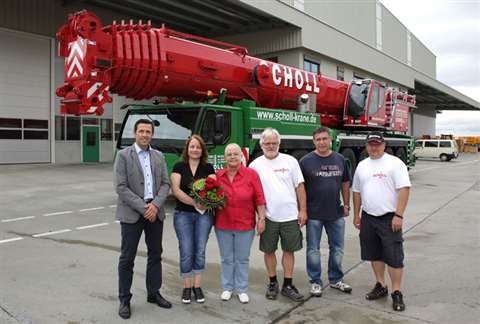 Crane service provider Karl Scholl, based in Heidelberg, Germany, has taken delivery of a 300 tonne capacity Liebherr LTM 1300-6.2 mobile crane.
It was handed over to Karl Scholl at the Liebherr plant in Ehingen, Germany. Angelika Scholl, managing director, and Karl-Heinz Scholl, driver of the new LTM 1300-6.2, said, "Liebherr's new development fits perfectly into our fleet from a logistics point of view. The LTM 1300-6.2 can be used quickly and flexibly. Its long telescopic boom and luffing jib make it ideal for use in the chemicals industry. That enables us to build on the success of the LTM 1250-6.1 and provide our customers with an even more powerful crane."
The LTM 1300-6.2 is now the largest model in Scholl's fleet of mobile cranes, which have load capacities ranging from 30 to 300 tonnes. It will be used for jobs in the chemical industry as well as the erection of tower cranes and the assembly of heavy prefabricated parts, a spokesperson added.