New MD for Böcker UK
By Leila Steed13 February 2020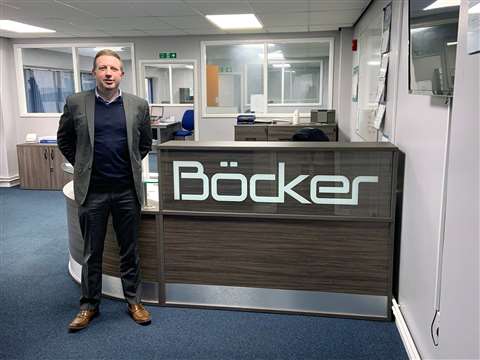 German crane and access equipment manufacturer Böcker has appointed Jake McCaugherty as managing director at Böcker UK.
The new leader of the British subsidiary will head up operations and implement growth plans to develop business in the United Kingdom (UK) and Ireland.
Böcker's products include truck cranes, trailer mounted cranes, inclined ladder lifts, rack and pinion construction hoists, small personnel lifts and material lifts.
McCaugherty said, "I'm extremely pleased to join Böcker. They have an excellent reputation for high quality products made in Germany and recognise the importance of having outstanding customer service.
"Over the next couple of weeks, I look forward to meeting our customers, some of which I know well from my previous role."
McCaugherty, who previously led the UK sales team for Danish lorry loader manufacturer HMF, joined the company after leaving Liebherr's UK tower crane division.
Böcker's executive director, Alexander Böcker, said, "The Böcker UK subsidiary was started just over two years ago and there is a clear commitment and support from us for Jake to continue the development of our business in the UK and Ireland. We are already looking forward to welcoming new customers in the future."