New Orleans flood barrier milestone
By Chris Sleight27 October 2009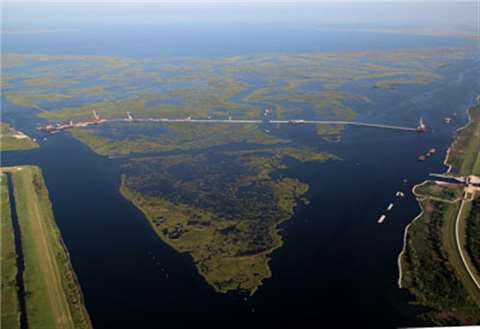 The Shaw Group has driven the final 1.68 m diameter foundation pile on the Inner Harbor Navigational Channel surge barrier. The structure is designed to protect New Orleans, US from flooding during hurricanes.
The piles for the 2 mile (3.2 km) long wall are 144 feet (43.9 m) long . They will form the foundation of what will ultimately be a 26 foot (7.9 m) high rock reinforced flood wall between Louisiana's Gulf Intracoastal Waterway and the Mississippi River-Gulf Outlet. The structure will include a swing barge gate and vertical lift gate for ships as well as a sector gate to regulate the water level.
The project was launched following Hurricane Katrina in 2005. During the storm water overtopped 1.2 km long flood wall causing it to collapse and flooding large areas of the city and its surroundings. The new structure has been designed to withstand storm surges from a 100-year hurricane.
The milestone reached in late October saw the 1271st and final 1.68 m diameter concrete pile driven in what will be a 2.3 km long central stretch of the wall. The 43.9 m long piles have been driven to a depth of 39.6 m, and reinforced with 2600 concrete closure piles and 600 steel batter piles.
Shaw began capping the pile wall at the start of October, a process that will raise the height of the barrier to some 6.1 m. Parapet walls will be built on top of the cap to achieve the final height of 7.9 m.
The client for the project is the US Army Corps of Engineers. Completion is expected in 2011.
For more information on this scheme, see the Large Structures feature in the November edition of International Construction.