New Philippines facility for Manitowoc
By Andy Brown23 September 2019
Manitowoc has opened a new 2,900 square metre facility with a warehouse and a workshop in Molino, Philippines.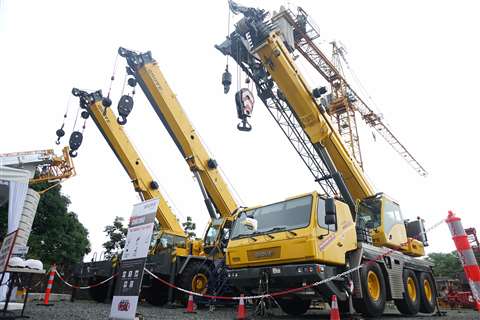 The facility stocks parts for Potain tower cranes, including models such as the MCR 160, MCR 225 A, MCT 205, as well as parts for Grove mobile cranes, for example, the RT530E-2 and RT765E-2 rough terrain cranes and the GMK6300L all terrain.
Construction of the new facility was completed in July 2019 and Manitowoc staff have already moved in.
Michael Macatangay, Manitowoc sales director for the Philippines, said, "We want to provide the highest levels of support for our Grove mobile cranes and Potain tower cranes.
"The opening of this new warehouse is the latest example of our commitment to customers in the Philippines, following the expansion of our sales team earlier this year."
More than 40 customers attended an open house event to celebrate the unveiling of the new facility last month. Cranes on display at the event included the Potain Hup 32-27 self erecting tower crane and the Grove RT530E-2 rough terrain crane and GMK3060 all terrain crane.
Apart from seeing the models on display, customers could also watch live demonstrations of the Hup 32-27 and there were handover ceremonies to celebrate deliveries to two customers – Port-Link Container Yard Corporation and P.A. Alvarez Properties & Development Corporation.