New premises for Hyundai
By Sandy Guthrie17 October 2017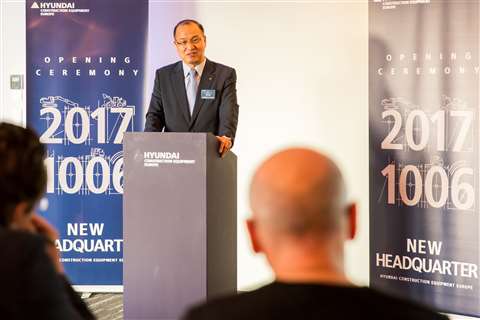 The new premises of Hyundai Construction Equipment Europe (HCEE) were opened recently with an official ceremony, at which managing director Alain Worp described the new headquarters as "a dream come true".
He said, "It's time for chapter two, and reaching for higher levels."
The new headquarters are in Tessenderlo, Belgium, and management from the South Korean headquarters, national and regional government, the European dealer network and Hyundai personnel attended the celebration.
Earlier this year, it announced its goal of becoming one of the top five ranking construction equipment manufacturers on the global market by 2023. This followed Hyundai's decision to spin off its construction equipment division, with a new firm officially established under the name Hyundai Construction Equipment.
At the opening ceremony in Tessenderlo, Kong Ki-young, CEO of Hyundai Construction Equipment, said that despite the name change, the essence of Hyundai remained the same. He said the intention was to develop as a premium brand, with automated production and smart factories.
He said the company was investing in technology and that there was a "huge budget" to help Hyundai become one of the top five players in construction equipment.
He added that in Europe, he wanted Hyundai to be known as a European company, rather than a Korean one.
Worp said the plan was to "think global and act local", and highlighted the intention of developing the company's dealer network further.
During the opening ceremony, the message was "new company, new headquarters, new vision".
The new headquarters complex comprises a new, three-storey, 5,400m3 office building, a 13,000m3 parts warehouse, a Hyundai Training Academy, an event hall and a showroom. The construction works represent an investment of €30 million.
On the 81,000m2 new site, the capacity for machine parts will be doubled.
Infrabo, a Belgian architecture and design firm, designed the new premises to be reminiscent of the shape of an excavator, while general contractor Cordeel constructed the entire building.
Worp said, "The new facility is an excellent step forward for our European division. After becoming an independent business unit earlier this year, the re-branding of the company and the definition of our global vision 2023, this new European headquarters is a clear indication that things are moving fast within Hyundai Construction Equipment.
"It is also a clear signal to the market that we are here – and that we are here to stay in a big way. For me this is only the beginning of our successful path to the future."