New product launches at LiuGong event
By Andy Brown04 December 2018
Chinese-based firm LiuGong launched six new products at the firm's recent 60th Anniversary Celebration, which was attended by over 5,000 people.
The new launches include the 886H wheeled loader; 990F excavator; B170DL bulldozer; 4180D motor grader; TC800C5 truck-mounted crane; and S935 sugarcane harvester.
The 886H is the firm's first intelligent remote controlled shovel wheeled loader. It is equipped with an intelligent loading system which senses material penetration. Intelligent shoveling enables the machine to shovel independently, as long as the driver controls the wheeled loader close to the stack. The operator only needs to lower its arm to carry out the second shoveling operation.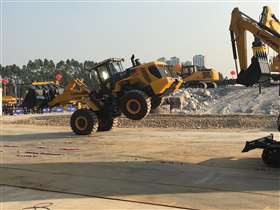 It also applies the intelligent protection technology to realise automatic identification system and auto emergency stop. As a result, the machine can not only be used in its normal applications, but also can be widely used in dangerous environments, such as rescue and disaster relief.
All the operations can be observed from the videos that are sent back by the machine's cameras with an effective control distance of 2000m. The machine is to launch in China in January, 2019.
At the anniversary event speeches were heard from Mr Zeng, chairman of LiuGong Group, as well as other senior figures at the company and Chinese party officials.
At a press conference after the event, Mr Zeng spoke about the company's future, saying that he expected the Chinese economy to grow at 6.5 or 6.6% and commenting that the company saw "great opportunities" in the export market, highlighting Europe, America and India. Mr Zeng also spoke about 'industry 4.0' and how the firm was investing in intelligent products, service, marketing and management.