New products and services announced at Trimble Dimensions
By Andy Brown09 November 2022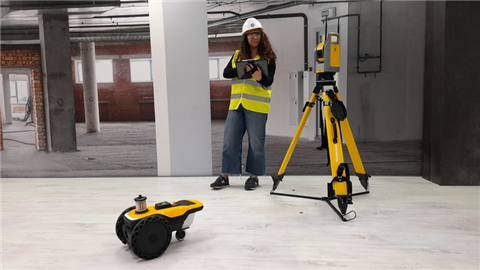 At Trimble Dimensions in Las Vegas, US, new products and services were announced, such as the Trimble Construction Cloud powered by Microsoft Azure, an industry cloud to streamline projects, a collaboration between Trimble and HP on a robotic total station, and a new partnerhip in autonomous construction surveying technology.
Over 5,000 people attended the three-day event, which started with a keynote session from Trimble CEO Rob Painter and then a question and answer session with Apple co-founder, Steve Wozniak.
Speaking to KHL, Rob Painter said that the company had enjoyed a record year in 2022 and that the wide number of infrastructure projects around the world were extremely positive for the construction industry. He added that some of the issues facing construction, such as rising material costs and a lack of skilled labour, could lead to companies investing more in technology as they look to increase their productivity and to semi-automate some processes.
The Trimble Construction Cloud takes advantage of Microsoft Azure services and the platform links project teams, data, processes and multiple stakeholders – such as general contractors, subcontractors, designers, engineers and owners – across all phases of construction projects. It is the sole construction industry cloud for Microsoft customers.
It was also announced that Trimble and HP are collaborating on the integration of Trimble's latest robotic total station with HP's new SitePrint robotic layout solution. The solution focuses on transforming the layout process for indoor construction projects. The integrated solution can deliver an autonomous layout workflow that can increase efficiency and productivity on the job, while delivering layouts faster than traditional methods.
Regarding autonomy, Trimble announced a strategic collaboration with Exyn Technologies, a pioneer in multi-platform robotic autonomy for complex, GPS-denied environments, to explore the use of autonomous construction surveying technology.
The solution will integrate Boston Dynamics' Spot robot, the ExynPak powered by ExynAI and the Trimble X7 total station. It will enable fully autonomous missions inside complex and dynamic construction environments, which can result in consistent and precise reality capture for production and quality control workflows.
The next Trimble Dimensions will be held November 6-8, 2023, in Las Vegas, US.