New reversible plate compactors from CP
By Joe Malone02 March 2017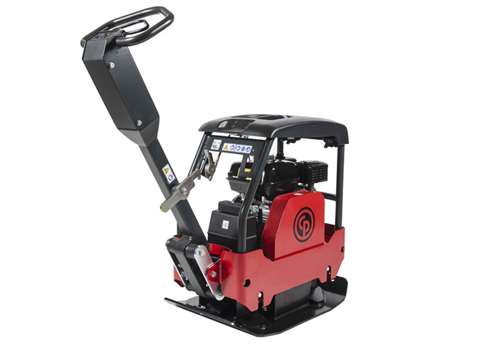 Chicago Pneumatic (CP) will launch its new MV164 and MV174 reversible plate compactors at ConExpo in Las Vegas, US.
The US-based manufacturer said the compactors were ideally suited for operation in confined areas and trenching duties, either to complement or provide an alternative to the employment of drum roller machines.
The MV164 features a 3.6kW Honda GX 160 petrol engine, while the MV174 is powered by a Hatz 1B20 diesel engine that produces 3.1kW. Either machine can achieve a maximum forward speed of 22m/min, according to CP.
The compactors also feature a 450mm-wide bottom plate made from Hardox 400 steel, which is designed for intensive usage and is said to be extremely resistant to wear and tear. In addition, the new design incorporates a hinged protective hood that provides easy access to the fuel tank. The hood also incorporates a foldable lifting eye to aid movement both on and between work sites.
Andrzej Mroziński, spokesperson for light compaction equipment at Chicago Pneumatic, said, "These two additions were developed with maximum productivity and user-friendly operation in mind. They deliver excellent, reliable compaction power and speed in either direction.
"To aid productivity on site, operators can even back out of a trench while still compacting. What's more, users can easily change operation direction via the vibration dampened handle."
Meanwhile, CP's parent company Atlas Copco said it would launch powerful and innovative generators, portable compressors and light towers at the US exhibition.
The QAS generator range is said to be designed specifically to the US market, and includes eight models ranging from 25-330kVA. All its models include the latest Tier 4 Final engine and have a footprint that claims up to 25% smaller than the previous generation.