New Sennebogen for Poole Harbour
By Laura Hatton26 August 2015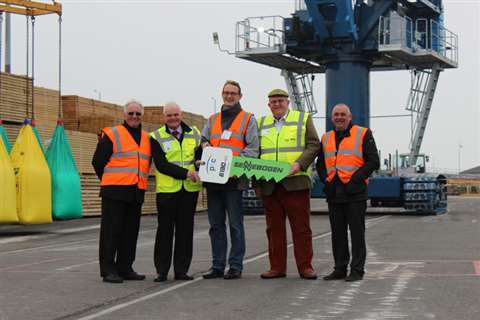 Poole Harbour Commissioners in Dorset, UK, has taken delivery of a new Sennebogen 6130 lattice boom crawler crane for harbour work.
The 84 tonne capacity crane was delivered by E H Hassell & Sons, distributor of Sennebogen port equipment. It will be used to help handle various cargo at the port, which includes ball clay, road stone, timber, rebar, beams, pipes, bricks, sand, organic animal feeds and grains. The port also supplies the Channel Islands three times a week, a spokesperson added.
Paul Gillingham, Poole Harbour Commissioners engineering manager, said, "As a port we are getting busier, but we were mindful that our existing port cranes were getting older, which in simple terms is the reason we decided to order a new machine. We have a relationship with Sennebogen and E H Hassell & Sons, which started over 10 years ago and having looked around the market, we liked what we saw with regards to the Sennebogen harbour crawler cranes.
"A visit was arranged to see a 6130 HCC in action and after this we started to work on a specification along with Sennebogen and E H Hassell & Sons that matched our requirements. The basic specification included a compact crane, with high duties as we handle high volumes of rebar in the port, some bundles can be up to 25 tonnes. The four metre pylon was critical along with the unique telescopic elevating cab, which gives our operators an excellent eye level height and the ability to easily adjust to their required level, dependent upon what cargo they are handling. We also included a hydraulic tag line to operate bulk grabs up to 20 tonnes capacity, efficiently and safely. From our side we have future proofed the machine, which will allow us to grow our business in coming years."
Ian Hassell, E.H. Hassell & Sons Ltd managing director, said, "We have a long standing relationship with Poole Harbour Commissioners and see this new addition to their Sennebogen fleet as sentiment that they are happy with the quality of the product, reliability and most importantly our parts and service support. Like all our ports customers we work closely with them and Sennebogen to make 100 % certain, what they require we collectively deliver."