New Sennebogen telescopic crawler crane
By Christian Shelton17 May 2017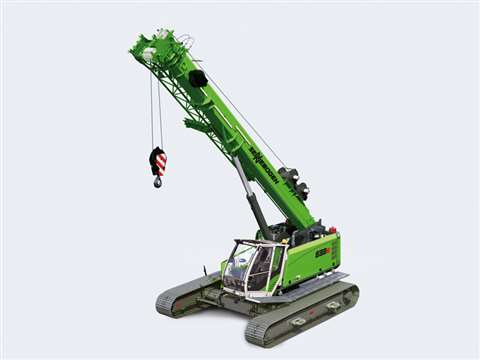 German crane manufacturer Sennebogen has launched a new pick and carry crane: the 633 telescopic crawler crane. With a 30 tonne load capacity, a full-power boom, and a compact footprint Sennebogen said the new crane fits perfectly into the gap in the market between its 613 and 643 telescopic cranes.
According to Sennebogen, the 633's three-part telescopic boom can be continuously extended and retracted over a length of 25.2 metres. The 633 can be used at full load (pick and carry), and can turn a full 360 degrees. Sennebogen said the boom's extension and retraction system is extremely robust and is always friction-locked. The maximum hook height (with the 6.5 m and 13 m fly booms) stands at a total of 38 m.
The boom length can be set quickly and easily, said Sennebogen, via a joystick in the crane's cabin. The crane comes with Sennebogen's Sencon control and diagnostics system which, the company said, clearly shows all operating parameters and offers easy, intuitive user control, as well as the ability to process error messages quickly.
With its crawler tracks, Sennebogen said the 633 can manoeuvre across difficult terrain and on slopes of up to four degrees. The machine can be driven at full load and the width of the crawler tracks can be hydraulically altered to three track widths.
The 633 is 10.6 m long, 3 m wide, and 3 m high. These compact dimensions mean it is easy to transport, said Sennebogen.
To maximise driver comfort the 633 has one of Sennebogen's Multicab II comfort cabins which can be inclined by up to 15 degrees. The cabin also has climate control and an air-sprung, heated seat.
A 178 mm screen in the cabin provides the operator with a constant view of the winch, the rear and the right side of the crane for additional safety.
Power is from either a 129 kW Cummins diesel engine with Tier 4f exhaust after-treatment or a 119 kW Cummins diesel with Tier 3a exhaust after-treatment.