New services from Genie at the Rental Show
By Euan Youdale27 February 2017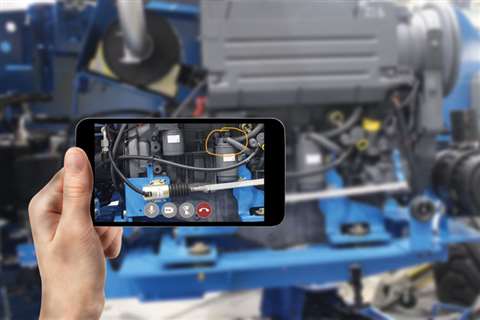 Genie is displaying a range of equipment and new services at the Rental Show, taking place this week, 26 February-1 March, in Orlando, US.
As well as the Genie SX-135XC (Xtra Capacity) self propelled telescopic boom, launched last year, the manufacturer is introducing the first in its next generation of accessories, the new Genie Lift Guard Contact Alarm secondary guarding system. It is designed to immediately activate and alert others that the operator may need help and is a standard accessory on most new Genie Z articulated and S telescopic boom lifts. It is active whenever the footswitch on the boom is enabled.
It features an activation cable fitted above the boom lift's platform control panel. When pressure is applied to the cable, it disconnects and activates the system. When the system is activated, all machine lift and drive functions are stopped to prevent additional movement in the platform, as well as an alarm sounds and beacons flash, notifying everyone near the Genie boom lift that the operator may require assistance. The system is only functional when the footswitch is depressed, and motion does not resume without human intervention.
Genie has also announces a revised protocol for cable replacement on its cable-operated telescopic booms S-60/S-65, S-80/S-85, S-100/S-125, SX-135 XC, SX-150 and SX-180 models. Moving from a required 10-year replacement cycle, the updated protocol calls for a mandatory 12-year inspection of the boom extend/retract cables, which are the main components responsible for the extension and retraction of the boom tubes. Replacement is only required if the cables do not pass inspection.
"With rental equipment constantly going out and coming in, less time in the shop translates to more time out on rent," says Bob Bartley, Genie senior director product support and reconditioning, Terex AWP. "This revised protocol replaces the mandatory cable replacement process with an inspection-only procedure, reducing maintenance time and costs. This extended protocol does not replace the quarterly and annual procedures recommended by Genie."
In addition, Genie fleet reconditioning services now offers a 3-year/36-month warranty on all components reconditioned by Genie, a 3-year/3,000-hr powertrain warranty on DEUTZ Xchange remanufactured engines and a 1-year powertrain warranty on all other engine brands. And, all Genie fleet reconditioning services are now performed at the company's new reconditioning centre in Oklahoma City, Okla.
Mr Bartley comments, "It's not a glorified paint job or a brand-new machine that costs less money. Reconditioning takes current unit in a customer's fleet and methodically inspects and restores to its original specification. It offers our rental customers the opportunity to lengthen the life cycle of an aging asset or to improve the reliability of a unit."
It also includes warranty work and updates issued in product bulletins and safety recalls, as well as an annual inspection completed to the manufacturer's recommended guidelines for the specific unit.
With the rapid expansion of its fleet reconditioning business, Genie has moved the service to the 700,000 square ft Terex OKC facility, which has received a $40 million investment.
Equipped with the new GenieTech Sight app, the Genie Technical Services & Support team can now troubleshoot technical issues in the field using online video guidance for real-time visual assistance. The app enables Genie to engage in "live" interactions with field service technicians using video-enabled mobile devices, including smartphones and tablets — Android or Apple (iPhone and iPad) powered systems.
A rental store service tech can use the video call feature on the app to connect with the Genie Technical Service and Support team. The visual component allows them to share "what they see" for immediate troubleshooting and response. The Genie team can then interpret and explain what is going on based what is happening on the screen.
The Genie SX-135XC self-propelled telescopic boom will also be on show. The first model in the new Genie Xtra Capacity (XC) family, it includes 90 ft (27.43 m) of outreach, 660 pound (300 kg) unrestricted lift capacity, the ability to work 19 ft 8 in (6 m) below grade and a 12 ft 11 in (3.94 m) x 13 ft 6 in (4.11 m) compact footprint. It has a horizontal reach of 90 ft (27.43 m).
Built to lift operators to full platform height — 135 ft (41.15 m) — in 2-1/2 minutes and drive enabled at full height, the unit can work on most jobsites with a Deutz TD2.9 L4 74-hp (55 kW) Tier 4/Stage 3B emissions-compliant diesel engine with four-wheel drive and four-wheel steer capabilities.