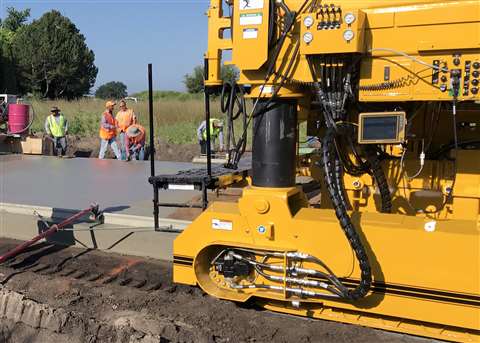 At Conexpo GOMACO will be showing a number of products, including its concrete slipform pavers that now feature the new Navigator software and optional ground level touchscreen display.
The new Navigator brings all of the G+ paver accessories together for easy control and monitoring on an optional touchscreen display.
The touchscreen display can be mounted on the paver at ground level and allows ground personnel the ability to fine-tune adjustments to the paver's performance and also configure settings for the GSI, side bar inserters, tie bar inserters, and power transition adjusters.
Ground personnel can monitor elevation and steering deviations for the paver and make as-needed adjustments to control sensitivities.
The deviations meters are customisable and can be displayed in a G+ bar graph, circular, or oscilloscope/histogram mode. The Navigator makes it possible to retrofit new G+ accessories to older GOMACO pavers still operating with the G21/G22 control systems.
Ground personnel can easily monitor the pave-time operation of the paver's bar insertion systems and power transition adjusters (PTA) with the GOMACO Navigator. It supports up to four PTAs with simple-to-operate touchscreen control. To make a transition, the ground person simply enters the new target height values for each PTA, then enters the transition distance, and presses start transition. A coloured, graphical display shows the height of each PTA, as well as the new target height.
The Navigator can support four tie bar inserters and two side bar inserters. The display illustrates the moving machine position including transverse joint spacing and when the paver passes an insertion point, fire lamps for each tie bar or side bar inserter are illuminated.
The new Navigator and paver-mounted GSI will be shown at Connexpo aboard the GP4 paver.