New SPMT from Enerpac
By Hannah Sundermeyer09 September 2016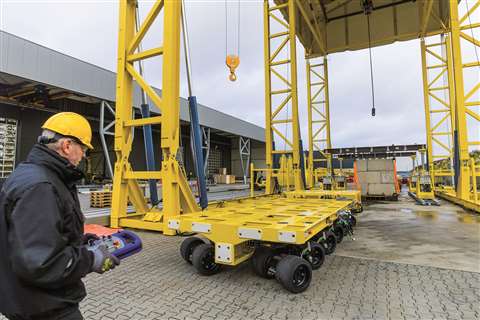 Enerpac introduces the SPMT600 Series Self-Propelled Modular Transporter (SPMT), a three-axle per trailer modular system featuring a minimized height, slim design and remote wireless control operation capabilities, making it highly suitable for operating in confined spaces.
Flexibility of use and configuration is a key feature, Enerpac said. Depending on the model number, the trailers and HPUs can be configured to a maximum of four trailers in two rows (4x2) or six trailers in two rows (6x2). The wireless Intelli-Drive Remote Controller is a standout feature of the SPMT600, according to Pete Crisci, global business development leader for integrated solution.
"With its simple to use interface an operator can learn how to use the system in one day," Crisci said.
Wheel propulsion is established by hydraulic drive motors; all wheels have individual drive motors, which provides maximum traction. Each wheel unit has both a steering and a lifting cylinder at its disposal. In total, one trailer can support 60 metric tons of load.
The SPMT600 features a Tier-4 diesel hydraulic power unit for reduced emissions, a low-profile, slim design, ideal for in-plant operation, Intelli-Drive wireless control system and two trailers and a power pack can be shipped inside one 20-foot container.