New SyncHoist from Enerpac
By Alex Dahm08 December 2015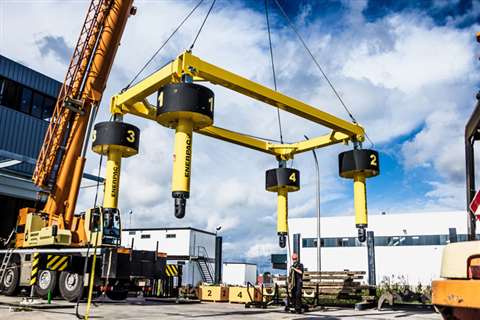 Specialized lifting and jacking equipment manufacturer Enerpac has announced a new below the hook load manoeuvring system. The SHAS-Series Autonomous SyncHoist uses four computer-controlled hydraulic lifting cylinders, suspended directly on ropes or under an auxiliary frame from a crane. It is designed to allow one crane to accurately hoist and position a load where space is limited.
More than one crane is often used for intricate lifts involving geometric positioning of heavy loads. Tandem or multiple crane lifts can be difficult to synchronise, Enerpac said. The manufacturer said its SyncHoist system is an easier to use, safer and more cost-effective alternative for below the hook load lifting and positioning.
Four double acting hydraulic cylinders are connected to lifting points above the load or under an auxiliary frame. Cylinders are available in either 110 or 225 tonne capacity and with strokes of 1 or 1.5 metres. Lifting accuracy is +/- 1 mm over the full stroke, Enerpac said.
One operator oversees the operation and uses a portable radio remote control. In addition to synchronous lifting and lowering, the operator can lift and lower each cylinder independently for balancing, tilting and positioning loads, Enerpac said. For repetitive hoisting operations a sequence of movements can be programmed via the programmable logic controller.
The system is self-contained so there is no external power pack, generator or trailing hydraulic hoses. Set up is quick and easy, the manufacturer said, with one electrical connection per cylinder.