New Tadano for AB Crane Hire
By Christian Shelton17 April 2019
Australian mobile crane hire service provider AB Crane Hire, which specialises in rough terrain cranes for difficult and tight locations, has bought a Tadano ATF 60G-3. The three-axle, 60 tonne capacity crane is Tadano's newest all terrain model and is the first unit of this model to be delivered to Australia.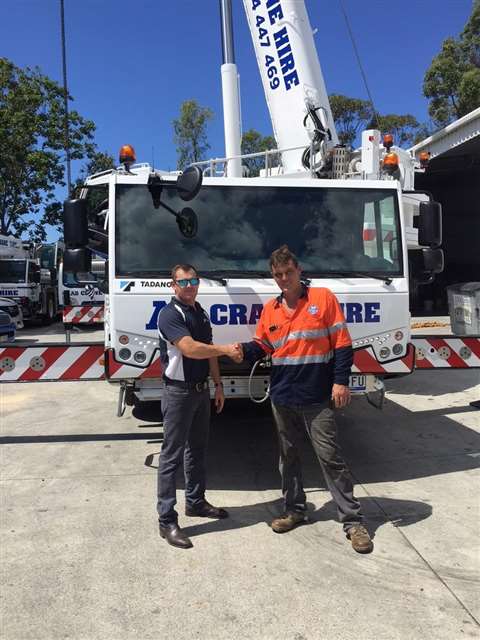 Tadano's Queensland, Australia sales manager, Jason Perry and AB Crane Hire's Alex Matthews
Managing director of AB Crane Hire, Alex Matthews, commented, "The ATF 60G-3 had no comparison in what we were looking for. The operations are simple and safety features are key for our staff and the machine provided all of that. The new hook camera is a highlight, too, by assisting in creating a safer environment for our operators and riggers. It gives the operator improved vision of where our riggers are when they are lifting at heights say three stories up on a building. It also adds to efficiency in set up and pack down. The crane hasn't stopped since taking delivery and it has slipped into our fleet perfectly".
According to Tadano, AB Crane Hire already has an ATF 70G-4, ATF 40G-2 and a TR-200M in its fleet. "Tadano machines are definitely on point with operational ease and reliability, another reason we engaged Tadano when expanding our fleet," Matthews added. "It is a one stop shop and they just get it sorted. We have been using Tadano for around eight years now and they have always been consistent with both servicing and parts. The people understand our need for quick lead times and are always happy to help in any way possible to ensure our crane is up and working".