New trailer from Zwaar Transport Twente
By Laura Hatton12 February 2015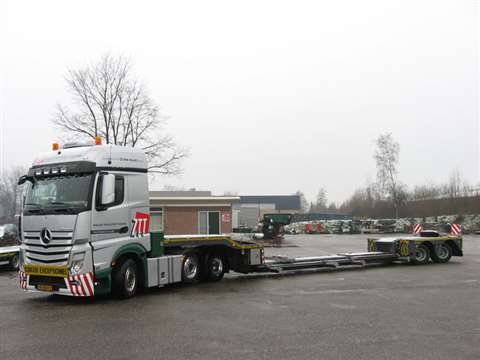 Zwaar Transport Twente in the Netherlands, VSE and Recker, have developed a new 2-axle narrow bed low loader.
Designed to transport combine harvesters, it has rear electrical steering, which reduces weight as no steering beams are required. It was designed without a turntable so the height of the gooseneck has also been reduced.
In addition, the low loader has a fully programmable turning radius depending on the length of the trailer, the company said. It is also driveable at any height, without additional tyre wear, a spokesperson added.
The first task for the trailer was the transportation of an old Mercedes emergency fire vehicle. The truck weighed 12 tonnes, and was 2.55 metres wide, 9.3 m long and 3.16 m high. It was transported from Stuttgart in Germany to Enschede in the Netherlands.