New vessel for BigLift
By Laura Hatton31 October 2014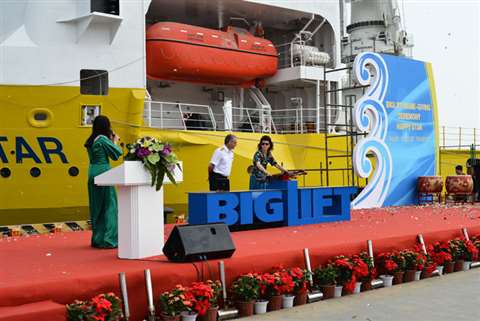 BigLift Shipping has taken delivery of its new heavy lift vessel, Happy Star, at a ceremony at Huisman's yard in Xiamen, China.
Happy Star was built by Ouhua Shipbuilding in China. The vessel has a 29 metre wide deck and two 900 tonne Huisman heavy lift mast cranes. Happy Star is 156 m long and has a dead weight of 18,374 tonnes. The vessel is part of the Happy S Series.
In addition to an adjustable twin deck, the vessel has Finnish and Swedish 1A Ice Class notation. During sea trials Happy Star achieved a service speed of 16.6 kn at 7m draft, a spokesperson said.
The first voyage for Happy Star will be from Nantong to Port Hedland, Australia. Here the vessel will be used to discharge two wharf deck modules. Complete with lifting gear the lifts will weigh 1,478 tonnes.
BigLift's fleet now includes 15 heavy lift vessels with lifting capacities up to 1,800 tonnes.