Next-gen Rokbak haulers in development
By Leila Steed31 March 2023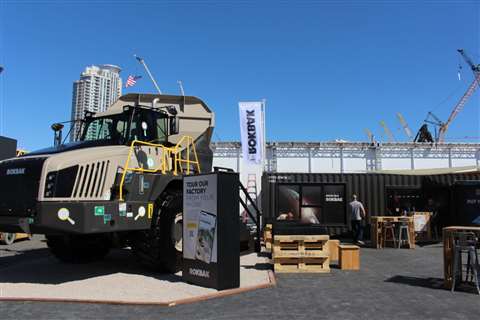 Rokbak has announced that it is developing its next generation of operator cabs for its articulated haulers.
Revealed as part of its presence at ConExpo 2023, the company said that new cabs for the RA30 and RA40 haulers would include features that provide vehicle drivers with more comfort.
They will also have an updated ergonomic layout and screen displays that enable easier operation and ensure that the models are ready for future automation and connectivity functionalities.
While the company has not revealed a launch date for the next-generation haulers, its current models took centre stage at the company's ConExpo stand, which focused on the four key themes of innovation, sustainability, connected services and efficiencies.
According to the manufacturer, which is part of the Volvo Group, these themes are what "will continue to shape the company's development journey and have been created from customer feedback, market research, technology advancements and product performance improvements". 
Rokbak's Senior Product Manager, Scott Pollock, said, "We're always innovating, designing and building to keep our haulers rock solid. Since the success of our rebrand 18 months ago, we are now moving into the next phase of the Rokbak development journey. Our four product themes will be used to develop both Rokbak's future product and product services offerings, aligned to customer needs."

In line with Volvo's group sustainability targets, both the RA30 and RA40 feature fuel-efficient drivetrains and are compatible with HVO fuel (hydrotreated vegetable oil), which significantly reduces CO2 emissions. 

"Rokbak haulers deliver new benchmarks in both performance and total cost of ownership, and reinforce the company's commitment to sustainability and journey to net-zero as part of the Volvo Group," said Pollock, adding that "Customer needs will continue to guide our product strategy and we will continue to invest in our Rokbak products and services."